Shropshire and Mid-Wales Fertility Centre
There are various types of fertility treatments and the contact telephone number and address for Shropshire and Mid-Wales Fertility Centre, can be found below.
If you would like to find out if you are suitable for fertility treatment or information about a particular procedure or treatment, contact a local clinic.
Shropshire and Mid-Wales Fertility Centre
Shropshire and Mid-Wales Fertility Centre
The Shropshire and Mid-Wales Fertility Centre
Royal Shrewsbury Hospital
Mytton Oak Road
Shrewsbury
Shropshire
UK
SY3 8XQ
Tel: 01743 261202
Clinic details: Shropshire is part of the West Midlands and is within easy reach of nearby Mid Wales, Birmingham, Stafford, and Nottingham to name but a few of its neighbours. Shropshire is in fact one of the country's most sparsely populated regions. Shrewsbury, the site of the Shropshire and Mid-Wales Fertility Centre is the county's centre in many respects, and retains a traditionally medieval look which hosts a remarkable 660 historic listed buildings. The Shropshire and Mid Wales Fertility Centre is a provider of both NHS and private investigations into the cause of fertility as well as treatments of the condition. A range of different treatment options are made available for patients from the surrounding area, which includes surgical routes for the clearing of fallopian tubes or extraction of sperm, drug based induction of ovulation, and assisted reproduction technologies. While artificial insemination is offered, the most popular and cutting edge treatments on offer are in vitro fertilisation (IVF) with or without intra-cytoplasmic injection (ICSI). The IVF technique has been practiced for a couple of decades now, and the procedure has only improved and gone from strength to strength. IVF is basically the fertilisation of an egg outside of the body, in specialised glass dishes in a tightly controlled environment designed to encourage successful fertilisation and hence conception. ICSI is a variant of IVF that differs from its parent procedure in that rather than sperm and eggs being cultured on the same dish for fertilisation, a single sperm cell is taken and injected right into an egg cell. The process of injecting an extremely small cell is delicate and requires both expert technical precision on the part of staff performing ICSI, but also the latest and most advanced equipment that enables fertilisation.
Fertility treatment at this clinic: First licensed in 1994, the Shropshire and Mid-Wales Fertility Centre is the Assisted Conception Unit based in the Royal Shrewsbury Hospital. Originally founded in 1991, the centre has undergone regular updates and reviews to keep it on the frontlines of infertility treatment. The centre tends to a large population which comes from Telford Shropshire, Mid-Wales, and the counties in and around these areas. The Centre has evolved over the years to keep step with the rapid changes constantly happening in the field of assisted reproduction, all the while keeping in mind the ethos which is the cornerstone of the Centre, personal and patient centric care. Treatments are provided by both medical and scientific staff, both of whom are available for updates on your treatments and any questions you may have on their area of expertise. This kind of dedication to a personal and efficient system of care is not commonplace, and so the Shropshire and Mid-Wales Fertility Centre is ahead of many of its peers in its ability to deliver an all-encompassing and satisfying care experience. IVF and ICSI are both performed at the centre, and in 2009 the Centre was reported to have performed 214 cycles of IVF and 186 cycles of ICSI, performing these treatment cycles with success rates above the national average for under 35s. What that means is that if you are under the age of 35 you can expect a much higher chance of a successful treatment cycle and live birth than many other facilities in the country. A claim which few other clinics can make, and which places the Centre high on the list of quality providers of infertility treatments in the UK. One physician will be assigned to you throughout your treatment, meaning that you will be given the attention and concentration you deserve, and a number of onsite facilities mean that you don't need to shuffle around from site to site for your appointments. Such on-site facilities include theatre facilities, a laboratory for tests and treatments, a procedure room, male production room, and counselling room.
Services offered at this clinic: Private and NHS patients treated, in vitro fertilisation (IVF), stimulated donor insemination, blastocyst transfer, unstimulated intrauterine insemination (IUI), in vitro fertilisation (IVF), stimulated IUI, stimulated donor insemination, egg and sperm donors recruited for treatment, IVF and ICSI with donor sperm and eggs, patient open evenings, counselling services translator services, storage (eggs, sperm, embryos) facilities, tubal surgery, percutaneous epididymal sperm aspiration (PESA), sperm assessment, monitoring and induction of ovulation
---
FERTILITY INFORMATION
UK HEALTH CENTRES
SELECT A LOCATION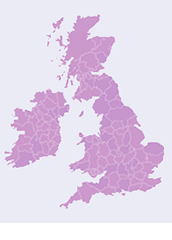 UK Health Centre