Anorexic Patients Turned Away by NHS Because They are 'Not Thin Enough'
Latest UK Health & Medical News »
Thursday, 11 August 2016
An investigation has found that women and girls with anorexia are being turned away from NHS trusts due to 'not being thin enough'.
The figures reveal that one in three trusts are determining whether or not eating disorder patients should be accepted based on weight measurements.
In some parts of Britain, women and men with anorexia could miss out on NHS mental health access if their BMI (body mass index) is over 14. A healthy BMI should be between 18 and 25.
Most of the trusts with weight restrictions said they used them in conjunction with additional measures, such as the speed at which the patient appears to be losing weight. But in Coventry, Derbyshire and Medway, BMI was a lone factor in deciding whether a patient should be prioritised for treatment.
The investigation, which was carried out by BBC Breakfast, heard from patients who had been told they could only receive help if they were admitted onto a psychiatric ward, despite warnings that they have coped badly in that kind of environment before.
All mental health trusts in Wales and England, of which there are 62, were asked if they used BMI to determine who would qualify for eating disorder services. 44 of the trusts responded, and a third reported that this was the case.
One woman who had been turned away because her BMI was 'too high' said she felt as though she 'wasn't good enough' at her eating disorder and this forced her into a spiral of dangerous weight loss.
Spokesperson from the eating disorder service at Kent and Medway Partnership Trust, Sarah Hodge, said that the trust doesn't want to ration services based on BMI, but they have limited funding and staff.
She said that people with a higher BMI are better able to engage with therapy, but the trusts don't have the resources.
NHS England's most senior mental health advisor, Professor Tim Kendall, said that these restrictions are dangerous. He said that if an eating disorder is left until the patient has lost around a third of their body weight, it will have multiple long-term consequences that can make it harder to treat, so he believes that it's wrong to leave an eating disorder before it has gotten much worse.
Professor Kendall said that for a person to be told they are not thin enough could cause the condition to worsen.
NICE (National Institute for Health and Care Excellence) guidelines state that BMI is an unreliable way to measure an eating disorder on its own.
725,000 women and men of all ages and from all backgrounds in Britain have been diagnosed with an eating disorder. The amount of children with a diagnosis has increased over recent years.
The Department of Health said they are investing £150 million into developing community services for young people and children in all areas of the UK.
UK HEALTH CENTRES
SELECT A LOCATION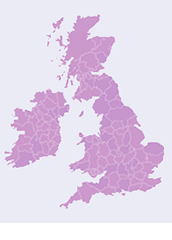 UK Health Centre