Charity Warns of "Shocking" Levels of Sugar in High Street Hot Drinks
Latest UK Health & Medical News »
Wednesday, 17 February 2016
A campaign group has warned that there are "shocking" sugar levels in some of the hot drinks on sale in high street coffee shops and cafes.
Action on Sugar have examined 131 different drinks and discovered that a third contain at least the same sugar content as a can of Coca-Cola or Pepsi; both of these contain nine teaspoons of sugar.
According to the charity, in the most worrying cases drinks included more than 20 teaspoons. Drinks analysed included hot chocolates, flavoured coffees including lattes and mochas and hot fruit drinks from fast food restaurants and coffee shops. The findings showed that 98 percent of drinks examined would receive a red nutritional value label to determine high content of sugar.
The NHS says that the daily recommended intake of added sugar for people aged 11+ is a maximum of around seven teaspoons, which equates to 30g.
The highest sugar content of the drinks tested belonged to Starbucks' venti Hot Mulled Fruit drinks Cinnamon, Orange and Grape with Chai, which weighed in at 25 teaspoons of sugar in one serving.
The Massimo Eat-In Chai Latte from Costa was discovered to have 20 teaspoons and there were 18 in Starbucks' venti White Chocolate Mocha with Whipped Cream. There were 15 in a mocha from KFC and Starbuck's Signature Hot Chocolate and Caffe Nero's Caramellate contained 13 teaspoons.
Kawther Hashem, researcher for Action on Sugar, has appealed coffee shop chains to decrease the sugar levels of their drinks, cease extra-large portion sizes and improve the labelling on their products. She said that these hot drinks should be enjoyed as an infrequent treat rather than a daily drink and they are loaded with high amounts of calories and sugar. She pointed out that often, these drinks are consumed alongside a high fat and sugar snack.
Ms Hashem was taken aback by the results and said the campaign group only tested the larger portion sizes available.
Coffee shop chains Caffe Nero, Costa and Starbucks said they are committed to reducing the amount of sugar in their drinks. A spokeswoman from Starbucks said that the chain is committed to meeting a 25 percent reduction of added sugar in its "indulgent drinks" by 2020. She also pointed out that Starbucks offers a range of lighter choices, natural sweetener and natural syrups. All nutritional information is visible online and in store.
Head of communications at Costa, Kerry Parkin, said that the chain has already taken "significant steps" to lower the sugar levels in drinks. She said that Costa would be putting forward targets for sugar and salt reductions for 2020.
A spokeswoman from Caffe Nero said changes have already been made to reduce the levels of sugar in some of their summer iced drinks by more than 10 percent. As well as this, many drinks are available with sugar free syrups and all the drinks' nutritional data is displayed on the Caffe Nero website to allow customers to make informed decisions about what they choose to drink.
UK HEALTH CENTRES
SELECT A LOCATION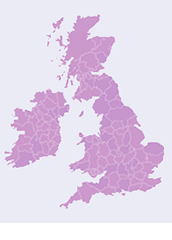 UK Health Centre