Doctor Says Discussing 'Do Not Resuscitate' Notice Would Cause Upset
Latest UK Health & Medical News »
Wednesday 18th March 2015
A doctor who placed a "do not resuscitate" notice on one of her patients without speaking to him or his family about it has told and inquest that she didn't want to cause avoidable distress.
The widow of 66-year-old Michael Richardson accused medical staff at James Paget University Hospital in Great Yarmouth of 'playing god' when she learned the DNR notice had been placed on him without discussion.
Dr Anna Blackburn, a consultant specialising in respiratory medicine at the hospital, says she made the decision when he was admitted in October 2013. Mr Richardson died three days after he was admitted to the hospital.
The patient had been ill for a number of years with a lung condition called pulmonary fibrosis. Dr Blackburn believed he had very little risk of surviving a cardiac arrest. She told the inquest in Norwich that an attempt at resuscitating him would have been cruel and futile. She said she spent a long time thinking about this decision.
Dr Blackburn had discussed Mr Richardson's condition with him, and he seemed very upset about the effect it would have on his wife. Dr Blackburn felt that bringing up resuscitation would cause him even more distress.
Due to patient confidentiality regulations, Dr Blackburn was unable to discuss matters with his family without speaking to him first.
The policy at the hospital during this time was that discussing a DNR decision wasn't compulsory if it would cause unnecessary distress to the patient. Since a Court of Appeal ruling in 2014, this policy has been changed. Now, it states that patients must be involved in decisions about life-and-death resuscitation unless doing so would cause physical harm to them. This was ruled nine months after Mr Richardson's death.
Taking into consideration the 2011 case of 62-year-old Janet Tracey, who died at Addenbrooke's Hospital, Cambridge, after an order was placed on her notes without full discussion, Lord Dyson stated that there should be a presumption that favours patient involvement unless there were indisputable reasons not to.
He also said that even well-intentioned attempts to spare patients from distress were, in themselves, not enough to justify keeping the decision from them.
Dr Blackburn said to the inquest that if she was faced with her patient today, she would have the discussion with him.
At the inquest, Mr Richardson's widow, Janet, challenged the doctor. She said that her husband had a lot to live for, even if it wasn't for very long. She feels that Dr Blackburn's decision was very wrong.
Staff from the hospital described how initially, they had rushed to try to save Mr Richardson after his cardiac arrest until the DNR notice was brought to their attention.
Mrs Richardson said that her husband had tried to discharge himself the day before he died due to concerns over the levels of oxygen he was being supplied.
The inquest heard that the family found out about the DNR notice when they came back to the hospital to receive Mr Richardson's death certificate, four days after his passing.
The inquest is ongoing.
UK HEALTH CENTRES
SELECT A LOCATION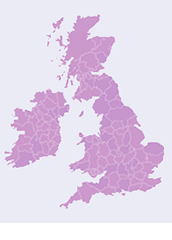 UK Health Centre