AIG Direct All Kinds of Cancer Cover
AIG Direct offer a number of cancer cover plans to suit a variety of needs and preferences. The All Cancer Cover is a plan that provides a one off payment in the instance of any covered cancer diagnosis (including most cancers that affect men and women, such as lung, breast or bladder), allowing you to concentrate on recovery instead of worrying about unforeseen expenses. The money provided by AIG Direct can be used however you see fit to help you cope better both financially and emotionally. Benefits of the All Cancer Cover plan include:
A cash payment starting from £25,000, totally tax-free
£50 per full day in hospital
Helplines and counselling available to provide advice and emotional support
Cover for early stages of cancer
Female Cancer Cover
Female Cancer Cover has been designed by AIG Direct to support you when you need help the most. The one off payment that you are entitled to allows you to focus on getting better while using the money to make things a little easier – whether it is spent on household bills or even a special family holiday. The standard plan pays up to £25,000 when diagnosed with primary cancers in any of the following areas: breasts, ovaries, cervix, uterus, vagina, vulva and fallopian tubes. Further benefits include:
A care advisory service including a personal nurse advisor
No need for family or medical history
Cover available for women aged 18-69 in the UK
Breast Cancer Cover
AIG Direct has decided to offer financial protection against the most common women's cancer in the UK. Despite the incredible progress made by medical science in recent years, fighting breast cancer can still unfortunately prove to be a great burden on finances for patients. The cash payment that you receive in the instance of a positive diagnosis (£10,000 with standard cover or £25,000 with premium cover) is there to help you deal with the financial consequences of your illness and you are free to spend it however you like.
Male Cancer Cover
Men between the ages of 18 and 69 in the UK can cover themselves for as little as £1.99 each month with AIG Direct standard cover. The Male Cancer Cover plan provides funding should you be diagnosed with a primary cancer in any of the following areas: testicles, prostate, scrotum and penis. Benefits of this plan include a one-off payment of £25,000, (or £1,000 when dealing with an early stage cancer) £50 per day in hospital up to £4,500 and AIG Direct will pay your first month's premium for you.
---
« Age UK Travel Insurance ALC Global Cover Plans »
PRIVATE HEALTH INSURANCE INFORMATION
UK HEALTH CENTRES
SELECT A LOCATION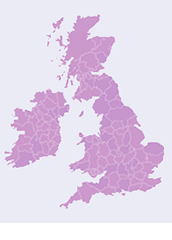 UK Health Centre