Diabetes Reversed in Mice
Monday 21st June 2010
A new type of gene therapy has been used to reverse type 1 diabetes in mice, researchers claim. Scientists at the Baylor College of Medicine, Texas, have publicised the results of their experimental research that shows that one course of gene therapy normalised the blood sugar levels of 50% of mice with type 1 diabetes - eliminating the need for insulin injections. Researchers now hope that their findings could be used to develop a cure for the condition.
Type 1 diabetes occurs when the body's immune system destroys insulin producing cells that regulates the body's blood sugar levels. Scientists were able to reverse the body's problem causing auto immune response and to shield and protect insulin producing cells from attack by using a gene therapy that involved utilising the gene interleukin-10. Researchers were able to use the gene to protect a large volume of newly formed insulin producing cells, thereby, reversing the symptoms of type 1 diabetes.
Scientists hope that future research will allow them to fully reverse and to "cure" type 1 diabetes - a condition thought to affect 1 in every 400 children.
---
« Other News Topics Diabetes News »
DIABETES INORMATION
UK HEALTH CENTRES
SELECT A LOCATION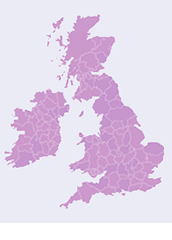 UK Health Centre