Dr. Alexandra Chambers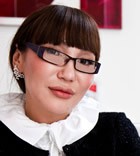 Alexandra Chambers has over 20 years of practical experience in the field of cosmetic medicine, making the Dr. Alex Chambers Clinic a good choice for your short list if you are looking for high-end, low-impact cosmetic treatments of the highest quality. Dr. Chambers received her medical degree in Moscow, and then followed on to complete her training in General and Cosmetic Dermatology at the esteemed Central Research Institute of Skin Disease. She is currently a member of the American Academy of Anti-Aging Medicine, and is a fully accredited practitioner in the UK with GMC registration number 4688570.
The Alex Chambers Clinic offers a broad spectrum of rejuvenating treatments that reshape the silhouette, improve the youthfulness and appearance of the skin, reduce wrinkles, and re-balance the hormonal system. The clinic offers cutting edge treatments in a comfortable facility, fully equipped with the best available technologies, all in full compliance with standards set by the Care Quality Commission. Dr. Chambers runs private clinics at 62 Wimpole Street, London and 38-40 Northgate, Newark in Nottinghamshire, both of which are staffed by friendly professionals, aiming to provide the best possible service for all patients.
Vaser Lipo
Dr. Chambers has performed over 500 Vaser Liposuction procedures in the past three years, making her one of the most experienced practitioners in the UK. Vaser technology offers good results, while being very low impact. This means that the costs and risks of Vaser are lower – one of the reasons that this form of liposuction is rapidly becoming number one in the United States. Some of the most popular Vaser procedures are performed on the abdomen, back, thighs, and buttocks.
Mini Facelifts
With age, the face sags, and a facelift can be used to improve the visual youthfulness of the jaw line by diminishing the effect of jowls, double chins, and wrinkles of the upper neck. Mini facelifts are low impact procedures that are performed under local anaesthetic. The Dr. Chambers Clinic offers both Hollywood and Silhouette Threads facelifts.
Gynecomastia
In some men, fat and breast tissue can develop, giving rise to psychological distress. This condition, known as gynecomastia, is easily treated through a combination of liposuction, using Vaser technology, in conjunction with excision. This is one of the most common procedures performed for men at the clinic, is performed under local anaesthetic, and requires very little down time for the patient.
Skin Rejuvenation
The Dr. Chambers Clinic offers a wide range of treatments to improve and rejuvenate the skin. Most of these techniques are based on stimulating the body's natural ability to create collagen, and to develop new blood vessels, in the process reducing wrinkles and making the skin look more radiant. These techniques include a unique Micro-Needling system developed by Dr. Chambers, Gold Thread Rejuvenation, and a variety of laser treatments.
Hormone Replacement Therapy
An important part of getting the most out of life depends on having a well-balanced hormonal system. With age, the balance we had in our youth changes, and as a result we can feel less energetic, and body functions slow down. The Dr. Chambers Clinic offers Bio-Identical Hormone Replacement Therapy, which is based on actually measuring the current hormonal profile, and then prescribing hormonal supplements to achieve a more youthful balance.
---
UK HEALTH CENTRE GUIDES
SELECT A LOCATION