95 Edinburgh Patients Die Whilst Waiting for Care in 2015
Latest UK Health & Medical News »
Wednesday 13th January 2016
In Edinburgh last year, 95 people died whilst waiting for a care package provided by the council.
Care companies, campaigners and unions all described this as a "cruel crisis" in social care and said additional cash is urgently needed to tackle the situation.
Figures also revealed that 400 people were waiting for care and 4000 hours of demand for care went unmet. One person even had to wait almost two years to receive a care package.
Campaigner and Motor Neurone Disease patient Gordon Aikman gained the information under freedom information. He said that there are real people with stories of indignity, desperation and misery behind these statistics. He said the study presents a cruel care crisis that is due to council cuts and that it doesn't need to be like this since the parliament has revenue-raising powers. Mr Aikman believes that a compassionate, caring Scottish Government would pay care workers a decent living wage, invest properly in social care and end the cuts.
A total of 276 disabled and sick people across Scotland died in 2015 whilst waiting for care packages to begin. A third of that in total related to Edinburgh, which uses a combination of private firm contracts and its own staff. They recorded more deaths than any other council and had the worst statistics on numbers and waiting times.
Scottish Care represents care-at home-service providers. Chief executive Ranald Mair said that without a rise in funding, this kind of provision would be jeopardised, in Edinburgh especially. He warned that care companies faced competition when recruiting, from hospitality and retail sectors.
Mr Mair said that by April, if providers are required to meet minimum wage increases and this isn't matched by a rise in council and Government funding, services will not be viable, growing numbers of people will go without help and people will be out of care.
A Unison in Edinburgh spokeswoman said it was particularly difficult for care providers to retain and recruit staff. 40% of care workers across the UK left their posts within 12 months and 65% within 24 months.
The spokeswoman said that Edinburgh is a high-employment city and where there is a choice, social care is often seen as a second or third choice profession.
She also said that 25% of social care is provided by the council and 75% is outsourced. Several care agencies have withdrawn from council contracts as they were unable to staff the services they provide.
According to the spokeswoman, the council is experiencing financial struggles and without more funding for social care, the problem will not have a quick resolution.
Councillor Ricky Henderson, city council health and social care convener, said the council delivered over 80,000 hours every week to 5000 adults.
He said that although care provision at home is under pressure, everyone assessed as in need of care who meets their eligibility criteria will receive care, with priority given to the most vulnerable. He said work is being done to increase the amount of care hours being delivered and all staff are paid the living wage. Incentives are given to care providers to encourage them to pay staff the living wage.
UK HEALTH CENTRES
SELECT A LOCATION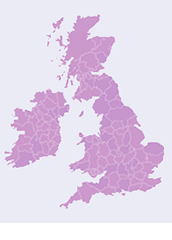 UK Health Centre