A New System of Robotic Surgery May Be Coming to NHS in 2019
Latest UK Health & Medical News »
Wednesday 5th September 2018
A Cambridge based robotics company has showcased a brand new robotic surgery system that they claim will be a cost-effective and very efficient way to undertake very complex surgeries, and will begin to operate on NHS patients as early as next year.
CMR Surgical and their robotic surgical system Versius have entered the market that was previously dominated by the Da Vinci robot system, which is made by Intuitive Surgical in California and used in over 70 hospitals in the UK to perform incredibly precise surgeries. With major patents on the Da Vinci expiring, there is a scramble for medical technology companies to take full advantage.
The team behind the Versius claim it is more versatile and flexible than other robots on the market, which could give it the edge when it comes to how widely it will become used in hospitals.
Robotic surgery is a field that has been gradually growing since the mid-1980s, with Da Vinci entering UK hospitals in 2001. They generally take the form of remotely operated joints, which are controlled by sensitive joysticks by a surgeon in order to perform keyhole surgery. Keyhole surgery performed manually by a surgeon is an incredibly complicated procedure that on average takes 80 hours to teach, with some surgeons finding the procedure impossible to master. With the advantages of an increased view, no tremors, twitches or other unwanted movements, it allows for more complicated procedures to be completed with less pain and quicker recovery times for patients. CMR Surgical claim it takes only half an hour to teach a surgeon to use Versius.
Da Vinci is currently primarily used for prostate, gynaecological and bladder surgery, with an expanding line up of cases as technology improves.
Versius is not the only new competitor however, with a number of major companies planning on entering the space. Google, who have other major technological developments in the NHS already, have entered in a partnership with multinational medical and consumer healthcare company Johnson & Johnson to form Verb Surgical. The aim is to take charge of some of Google's learning machine AI and connect these robot surgeons to the internet to allow them to learn not only from a database of surgical cases but also from each other, which a prospective launch in 2020.
The largest medical device company in the world also has plans to launch a surgical machine next year.
There is also speculation about just how far robotic surgery will go. Right now, all motions of the surgical robot are controlled by a surgeon, but there is a growing belief that there could be in the future parts of an operation that could be left to automation.
The smaller, more cost-effective and more versatile robotic units coming onto the market, including by Versius, would open the doors for robotic surgery to be delivered outside of the largest hospitals in the UK, where they have dedicated suites for robotic care.
The Versius will be subject to European health and safety approval, which could happen soon, and whilst CMR Surgical have not revealed how much the Versius will cost, the aim according to the company is to make it cost effective in comparison to the existing Da Vinci unit.
UK HEALTH CENTRES
SELECT A LOCATION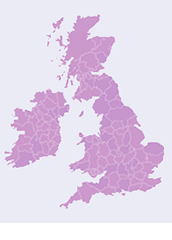 UK Health Centre