All adults in England to be offered boosters in December as Omicron cases surge
Latest UK Health & Medical News »
Tuesday 14th December 2021
All adults in England will be offered a booster vaccine in December as cases of the Omicron variant of Covid-19 surge.
In a televised address on Sunday 12th December, the Prime Minister confirmed that he was bringing the deadline for boosters forward by a month to try and stem the rising tide of Omicron cases. The Omicron variant, which was spotted by scientists in South Africa, spreads much more rapidly than the previous dominant variant, Delta. Estimates suggest that it is doubling every 2-3 days. Studies on the first cases of Omicron identified in the UK indicate that three vaccines provide excellent protection against the variant, with a reduced risk of developing symptoms of around 75%.
The problem for ministers and public health experts is that two doses of the vaccines currently in use do not provide sufficient protection. This is why the deadline has been brought forward and the NHS is embarking upon a mass vaccination programme mirrored only by the operation to rollout the first Covid-19 vaccines, which launched in December 2020. 
To enable as many people as possible to get their boosters, the time between vaccinations has been reduced from 6 months to 3 months and teams across the country are working to open new hubs and extend opening hours. Existing clinics will be offering more appointments and local pharmacies and community pop-ups will be supporting the vaccination drive. Mobile units will also be visiting hard-to-reach areas and health services will be postponing routine and non-emergency procedures and checks to prioritise the rollout. 
Speaking on Monday 13th December, the health secretary said that the variant was spreading at a rate "we've never seen before" and encouraged anyone who is currently eligible to make an appointment or attend a walk-in clinic to get their jab as soon as possible. Under 30's will be able to make an appointment from Wednesday 15th and over 30s can book now.
On Monday 13th, the first death in a patient with the Omicron variant was confirmed and 1,576 new cases were recorded.
UK HEALTH CENTRES
SELECT A LOCATION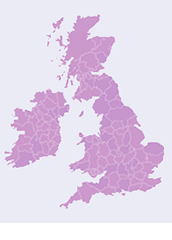 UK Health Centre