Allergy UK reports Increasing Incidences of 'Home Fever'
Latest UK Health & Medical News »
19th November 2013
While many of us are all too familiar with the effects of hay fever, Allergy UK has recently reported that a new type of allergic reaction has reached epidemic proportions here in the UK. 'Home fever', as it is now known, refers to a range of allergic reactions and symptoms to common household triggers and dust mites.
Materials and substances which trigger allergic reactions are referred to as allergens, and as part of an awareness campaign to improve our knowledge and understanding of common household allergens, Allergy UK have reported that as many as two thirds of Britons can experience the tell-tale signs of an allergic reaction within the comfort and safety of their own homes.
Symptoms commonly include irritation of the eyes and sneezing, and can be a result of exposure to dust mites, certain household chemicals, mould, and some pets. The recent report published by Allergy UK shows a significant increase in the incidence of 'home fever' since the last figures published in 2010.
Critics argue that the report is based on a study of 1,600 people and may not necessarily be representative of the entire population, and less than the evidence required to report an epidemic of 'home fever'.
Despite these criticisms, the fact remains that a growing number of people within the UK are exhibiting allergic symptoms in response to common household allergens. Sufferers are advised to take measures to address the presence of these allergens and reduce their symptoms. These can include using anti-allergen covers on pillows, duvets, and mattresses, as these are often popular dust mite environments. Regular dusting, washing, and vaccuuming helps to create an environment in which allergens are kept to a minimum. Similarly replacing your mattresses every 8 to 10 years, and your pillows every year, is an excellent way to prevent the accumulation of dust mites.
UK HEALTH CENTRES
SELECT A LOCATION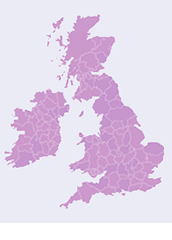 UK Health Centre