Almost a Third of Sick Notes Issued Are for Mental Health Issues, Claims NHS Report
Latest UK Health & Medical News »
Wednesday 6th September 2017
In what the Royal College of Psychiatrics have called "alarming" findings, the amount of fit notes taken for mental health issues has risen by 14%, making psychiatric issues the most common reason for people to take time of work, above musculoskeletal disorders. This is according to an NHS
A fit note, or a statement of fitness for work is the formal term used for what is commonly called a sick note, is an occupational health slip that is usually given out if someone is absent from work for more than seven days with a health issue.
The report analysed more than 12 million sick notes over two and a half years from various GP practices across England, the first time this particular information has been collected from GPs for analysis. Of the 12 million sick notes, roughly half had a known diagnosis, and fit notes issued for psychiatric concerns were issued for longer periods of time than other types of illness.
Jed Boardman, a member of the Royal College of Psychiatrists argued that not enough was being done to help facilitate a person's return to work, and more needs to be done by both employee and employer to tailor return to work policies to individual needs.
There is also concerns that those with mental health needs could be forced out of the labour force entirely due to discrimination, and almost half of people who claim Employment and Support Allowance are receiving it due to mental and behavioural disorders.
The NHS, in a statement noted that these figures are the reason why mental health is being placed "front and centre" in their priorities, and agreed that more needs to be done.
UK HEALTH CENTRES
SELECT A LOCATION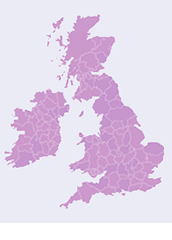 UK Health Centre