Biological Age and Alzheimer's Disease Predicted in a Drop of Blood
Latest UK Health & Medical News »
Wednesday 9th September 2015
Researchers believe that a blood test that shows how well people are aging is able to predict the onset of Alzheimer's and other diseases.
Scientists have discovered a set of genes that need to function properly for 'healthy ageing' in 65-year olds. How well these genes work can be calculated into a 'healthy age gene score'. The lower the score, the more likely the person is to develop or already suffer from a disease.
As early intervention is essential in Alzheimer's, researchers at Kings College London said the test will help doctors in deciding which middle-aged subject could qualify for preventative therapies before early signs of dementia begin to appear.
Although there is no cure for dementia, new treatments can slow down the disease if they are provided early enough and these have shown early promise in trails. This is the first accurate and practical test for the rate at which individual bodies are ageing.
Lead author James Timmons said that it is generally accepted that all 60 year olds are different, but there hasn't been a reliable test for fundamental "biological ageing". He said the results provide the first full-bodied molecular 'signature' of biological age in people and should be able to change the way age is used in medical decisions.
Such decisions include identifying those most likely to be at a risk of Alzheimer's, as catching people at 'early' risk is important when evaluating possible treatments.
Timmons also said this provides strong evidence that dementia could be considered a type of 'accelerated ageing',
The collaborative study was carried out at Kings College London, Duke University in America and Karolinska Institutet in Sweden. It took place over 7 years and used a process known as RNA-profiling to compare and measure gene expression in thousands of human tissue samples.
Researchers compared the tissue of 25-year-olds with that of 65-year-olds and discovered an activation of 150 genes that needed to be in place for healthy ageing. The scientists identified large differences in the age scores of people born within one year of each other, suggesting a considerable difference between 'biological age' and 'chronological age'.
Participants with the worst 'health age gene score' were more likely to suffer from poor health, such as loss of renal function, and mental decline.
The results also demonstrated that patients diagnosed with Alzheimer's disease had much lower scores and this suggests a considerable association with the disease.
Currently in the UK, there are 850,000 people suffering from dementia and the most common type is Alzheimer's disease, which claims at least 60,000 lives every year.
The research was funded by Medical Research Council. Programme manager for population health sciences at MRC, Dr Neha Issar-Brown, said that although it's natural for our brains and bodies to slow down as we get older, severe loss of cognitive and physical function can have devastating consequences for the individual and their family, as well as more widely affecting the economy and society.
He said the new test has huge potential because with further research, it could help to improve the evaluation and development of treatments that prolong good health in older age.
UK HEALTH CENTRES
SELECT A LOCATION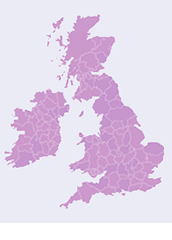 UK Health Centre