Booster vaccines recommended for all over 18s
Latest UK Health & Medical News »
Thursday 2nd December 2021
Booster vaccines have been recommended for all over 18s in the UK.

The JCVI (Joint Committee on Vaccination and Immunisation) confirmed that it was recommending booster jabs for all UK adults on Monday 29th November. The third jab had already been recommended for priority groups, followed by over 40s. Now, the JCVI has taken the decision to advise ministers to approve the booster for all adults in a bid to prevent serious disease amid concerns about a new Covid-19 variant. 
In addition to recommending boosters for all adults, the JCVI has also suggested reducing the time frame between the second and third doses from six months to a minimum of three months and encouraging all children aged between 12 and 15 to have a second vaccine. 
Last week, news of a new variant, now known as Omicron, broke. Scientists in South Africa identified the variant, which has more than 30 mutations on the spike protein and is much further removed from the original virus than other variants of concern. Across the world, there have been travel bans and restrictions imposed to try and limit the spread while researchers gather and analyse data about the potency of the new variant and the efficacy of existing vaccines against it.
In a press briefing, Professor Jonathan Van-Tam, England's deputy chief medical officer, explained that rolling the booster out as quickly as possible was the best thing to do while scientists evaluate data and the picture becomes clearer. At the moment, it is not clear how quickly the variant spreads and how likely it is to cause more severe illness, and further research is required to see how the virus reacts to the vaccines in circulation. 
Professor Van-Tam said that vaccine efficacy may be impacted by the Omicron variant, but suggested that having the vaccine would still make a dramatic difference to the odds of developing severe disease. 
The NHS is now working to boost capacity to enable as many people as possible to have the third jab in the coming weeks, with millions more now eligible for the booster under new JCVI guidelines.
UK HEALTH CENTRES
SELECT A LOCATION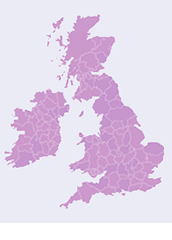 UK Health Centre