Concerns Raised at Public Health England's involvement with Charity Connected to Alcohol Industry
Latest UK Health & Medical News »
Thursday 13th September 2018
Public Health Experts have voiced their strong opposition to Public Health England's decision to work with Drinkaware, a charity funded in part to the alcohol industry, on a campaign to reduce alcohol intake. Some experts have argued that the alcohol industry should not play a role in providing health information and PHE were making a serious mistake in the partnership. But Public Health England have stood by the decision and Drinkaware have stressed their independence from the industry.
The campaign is Drink Free Days, a campaign launched that looks at your drinking patterns and offers advice and information about how to reduce alcohol intake over a week, as well as allow you to compare your drinking habits to the national average. They also provide drinks tracking, information on drinking and health effects as well as encouraging a move to low alcohol and alcohol-free alternatives.
However, health experts in an open letter called the campaign a risk to both the reputation of Public Health England and effectively presenting alcohol advice to the general public. The communications campaign, they argued, has limited effectiveness as proven by PHE's own research. They strongly criticise Drinkaware's advice, as the full risks of drinking to excess are not provided by Drinkaware.
It was also noted that some of Drinkaware's funding sources in the alcohol industry, such as Heineken group, provide advice on their drinks that is out of date, although a spokesperson for Heineken says they are currently making new labels that match the current advice of 14 units per week.
There are also questions of conflicts of interest, with PHE's chief economist and two other officials attending a conference that talked about ways the drinks industry could pay for research into how effective public health campaigns about alcohol were. This conference also included representatives from Molson Coors (makers of Coors Lite) and Anheuser Busch InBev (Makers of Budweiser). A researcher compared the issue to the tobacco industry, where researchers were paid to obfuscate the harm cigarettes and other tobacco products cause. Ultimately after the conference, the standards for research are to be developed by Academics, showing how little progress had been made.
All of this reveals the dilemma PHE face. On the face of it, it seems logical that an industry should contribute to endeavours to ensure healthy consumption as much as possible. If they cause public health issues then they should foot the bill. On the other hand, accusations of conflicts of interest will inevitably arise, and as seen with both the tobacco industry and alcohol industry in America (where public health campaigns are created by the industry), there are issues where there is pressure to de-emphasise the true health risks of a particular industry. This can be seen by decades of conflicting research and advice concerning whether there is a safe amount you can drink.
Public Health England aims to make Drinkaware a long-term partner, claiming it works with any partner that shares their commitment and answers to the evidence.
UK HEALTH CENTRES
SELECT A LOCATION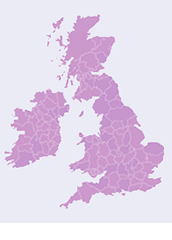 UK Health Centre