Demand for NHS Services Is Outstripping the Rise in Staff Numbers
Latest UK Health & Medical News »
Wednesday 8th November 2017
NHS bosses have stated that rising demand for healthcare has outstripped the numbers of new NHS staff being employed, causing staff to be working on the "edge of safety". This has raised concerns about the rising pressures on NHS staff and the potential risks to safety.
This comes after the release of a report by NHS Providers, the organisation that represents health chiefs, which noted that the biggest concern in the NHS was a shortage of staff. Saffron Cordery, representing NHS Providers said that as there wasn't an overarching strategy that was "coherent or credible", plans in place by the Government wouldn't be guaranteed to work. She reported concerns about shortages on the frontline and how staff pressure is causing their jobs to become increasingly "undoable".
The report noted that the total number of staff currently working in the NHS had risen by 6% in a three year period from 2013-14 to 2016-17, reaching 1 million staff member. This news is tempered by massive rises in demand for health services, with A&E visits increasing by 7%, emergency admissions increasing by 10%, ambulance call outs rising by 15%, referrals to GPs increasing by 11% and diagnostic tests rising by nearly 20%. With demand outstripping supply at that level, calls have been made to government for more to be done.
This comes despite government ministers announcing rises in the numbers of training places for doctors and nurses amid other expansive plans to tackle the issue of staffing. The Department of Health announced that doctor and nurses would have the "biggest ever" training place expansion, and this recruitment would help ensure the NHS has the staff it needs.
This recruitment however is tempered by uncertainty in other parts of the ecosystem, as staff recruited from the European Union are facing particular uncertainty about their future careers in the NHS, with a report last week from the Nursing and Midwifery Council showing the number of nurses and midwives from the EU had fallen by 2,700 in the last year.
With the UK Government's autumn budget to be announced in two weeks, pressure is mounting on increasing the funding for the NHS as a whole. The government has made the promise to increase the frontline budget for the NHS by £8bn a year by the year 2022.
This does not take into account training funding or preventative and healthy lifestyle services, such as the NHS' stop smoking initiatives, which puts the average annual increase at less than 1%, less than a quarter of the typical rise that allows for the cost of an aging population and the funding of new drugs.
The chief executive of NHS Providers, Chris Hopson, notes that due to funding issues, key targets for A&E, cancer care and routine operations were being missed.
The Budget is currently scheduled to be announced on Wednesday 22nd November and the NHS will be a major part of their announcements.
UK HEALTH CENTRES
SELECT A LOCATION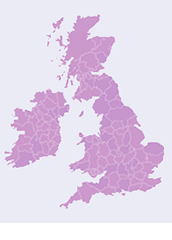 UK Health Centre