Evidence Flawed in Study Linking Heavy Drinking to Reduced Risk of Diabetes
Latest UK Health & Medical News »
Wednesday 2nd August 2017
A Danish study was recently released suggesting that people who drink alcohol three or more times a week have a reduced risk of diabetes in men and women. The study however has numerous weaknesses which suggest that it should not be used as a guideline to increase the amount you drink.
The study was an analysis of data from a previous cohort study and published in the peer-reviewed journal Diabetologia, which assessed people's lifestyles in 2007-2008 and again in 2012, in order to assess if there was any link between the amount people drink, how often, whether they ever binged drank and how, what kinds of alcoholic drinks, and the connection between all this and the risk of diabetes development in people who did not already have it.
The research involved over 70,000 people taken from the regular Danish Health Examination Survey, and because of the wide range of people involved there are enough people who developed diabetes to find connecting factors.
The researchers tried to take into account confounding factors such as exercise, diet and smoking which could have altered the result, although given the nature of the survey the factors in question may not have been recorded sufficiently to be useful in analysis.
After a follow up period of roughly four years, the study used five sources to detect diabetes cases and developed a ratio of risk for people in different groups of alcohol consumption.
The results suggested that after adjusting for other factors was that the lowest risk of diabetes was noted in men who consumed 14 alcoholic drinks per week (although it is unclear whether this relates to drink units or not) and women who consumed 9 alcoholic drinks a week.
The research also found that spreading your drinking over three to four days was linked with a lower risk of diabetes for both men and women. Men who drank 1 to 6 glasses of beer had a lower risk of diabetes than those who didn't drink beer. On the contrary, women who drank spirits seven or more times in a week had an increased risk of diabetes compared to others who only drank spirits once a week.
With that said, the research did not take into account that many people drink a mix of different alcoholic beverages, either over a week or on a single night.
While the size of the study is beneficial to the study, it has serious flaws and limitations in how the results were found. The first is that alcohol consumption was only measured at one point, while many if not most people who drink alcohol will drink a number of different kinds of drinks over a period of time, especially since the follow up period was four years.
The study of diabetes risk included both type 1 and 2 diabetes and does not distinguish between the two, which given that the two forms of diabetes have very different causes and treatment paths. The follow up period was under five years, whilst diabetes is a condition that develops over a much longer period. While there was information collected on the diets of individuals, what was collected may be too simplistic in nature to help remove diet as a confounding factor in the survey, and similarly chronic health conditions other than high blood pressure were not taken into account
While it is certainly an interesting study, it is far from conclusive evidence, despite the glee of many newspapers reporting the story as carte blanche to open another bottle of wine. Even if it did reduce diabetes, the increased risk of other health problems such as liver disease is such that it is not worth it.
UK HEALTH CENTRES
SELECT A LOCATION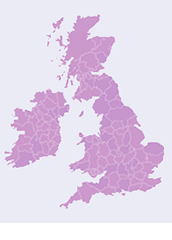 UK Health Centre