First Ever Autism Treatment Improves Social Communication
Latest UK Health & Medical News »
Thursday, 27 October 2016
The first every autism treatment has been hailed by scientists. Autism is a severe developmental disorder affecting 1 in 100 children.
Children with autism experience difficulties with their behaviour and communication. This tends to have a serious effect on their development into adulthood.
To date, no autism treatment has been successful in improving the core symptoms in the long-term, despite several claims and previous research. But now, scientists have reported that a unique family intervention treatment has seen successful, long-term results.
The results, from the biggest long-term follow-up study into autism ever carried out, are from a randomised controlled trial by the University of Manchester, Newcastle University and King's College London. The study is due to be published next week in The Lancet on Wednesday.
Their research revealed that training parents to communicate with their child from a very young age significantly affected the reduction of the child's autism symptoms. The positive effect lasted for at least six years following the end of the treatment process.
Charities have described the treatment as the first globally to be proven to offer this level of sustainable improvement. The study is the first of its kind to recognise a long-term effect for early intervention in autism.
During the study, parents were asked to watch videos of themselves interacting with their child before receiving feedback from a therapist. Once they'd received advice from the therapist, parents were able to significantly enhance their response and awareness to their child's unusual communication patterns. They were better able to understand their child and communicate back in an appropriate way.
Researchers discovered that children with autism aged between two and four, whose parents received the intervention, had less severe symptoms overall six years later. They also had reduced repetitive behaviours and improved social communication.
Professor Jonathan Green, from Royal Manchester Children's Hospital and the University of Manchester, was the study's leader. He said that this kind of early intervention is different because it's designed to work with parents to make improvements in communication at home. He added that this approach is beneficial over therapy because it could potentially affect the child's everyday life. Professor Green felt encouraged by the findings because they show improvement in the core autism symptoms, which were previously considered resistant to change.
Although delighted with the results, Professor Green stressed that the intervention treatment is not a cure for autism, as the children who did show improvements still demonstrated symptoms of the disorder to varying extents. However, he said that the study does imply that working with parents to interact with their children like this can lead to symptom improvements in the long-term.
UK HEALTH CENTRES
SELECT A LOCATION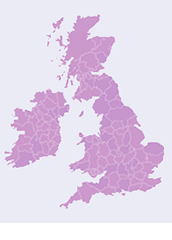 UK Health Centre