Government Plans to Ban Unhealthy Snacks at Supermarket Checkouts
Latest UK Health & Medical News »
Wednesday 27th June 2018
Sweets, Crisps and other unhealthy snacks are to be banned under proposals by the government to cut childhood obesity by half by 2010.
These initiatives are part of wider government plans, which include forcing calorie labelling on restaurant menus as well as stronger restrictions on junk food advertisements on television as well as online advertising.
The initiatives, part of the updated Childhood Obesity Plan include
The banning of sweets and snacks high in salt, sugar and/or fat at the checkout, the shop entrance or as part of buy-one-get-one-free multi-purchase deals.
Further restrictions on how unhealthy food is advertised to children, on television as well as online. These have not been clarified yet, but this may include banning adverts before the 9 pm Watershed.
Takeaways, restaurants and cafes will be required to clearly label calorie information for meals, although Health Secretary Jeremy Hunt has noted there could be exemptions for smaller businesses.
Stopping the sale of high-caffeine energy drinks to children.
The plans have been welcomed by health campaigners and experts alike, including Public Health England, Professor Dame Sally Davies the chief medical officer for England, Professor Russel Viner from the Royal College of Paediatrics and Child Health and Tim Elwell-Sutton, assistant director at the Health Foundation.
The aim of the proposals is to give the power to enable parents to make healthy choices easier and reduce pester power at the checkout. This is particularly important as one in three children are considered overweight or obese by the age of 11, as well removing what has been termed the "deprivation gap", which will explore why children in poorer areas are twice as likely to be overweight as those from more affluent areas.
A number of supermarkets, most notably Tesco, Waitrose and Aldi have taken the initiative on these proposals and already no longer sell sweets and chocolate at checkouts.
These proposals only affect England, although Scotland's Public Health Minister has stated that the Scottish government will be setting out their own healthy weight plan very soon, noting specifically their intention to remove price promotions on junk food.
These new proposals come after the implementation of the soft drinks industry levy in April, better known as the sugar tax. This added a price increase for drinks high in sugar, which has led manufacturers to either cut the sugar in their soft drinks or increase the price. Plans have been considered to add flavoured milk drinks to the sugar tax. Time will tell if the tax will succeed in reducing the sale of sugary soft drinks. Public Health England has a voluntary scheme that has challenged producers to reduce the amount of sugar in cereals, cakes and biscuits.
The challenges to reduce childhood obesity is significant, as 22% of English children are overweight or obese when they begin attending primary school, a figure that increases to 34% by the end of primary school. The overall cost of childhood obesity to the UK economy is £27 billion, with the cost being in treating type 2 diabetes and other obesity-related conditions.
UK HEALTH CENTRES
SELECT A LOCATION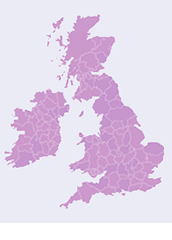 UK Health Centre