Long Term Study Claims E-Cigarette Use "Far Safer" than Smoking
Latest UK Health & Medical News »
Wednesday 8th February 2017
The first long-term study of the health effects of e-cigarette use reveals they lead to a significantly reduced cancer risk compared to people who smoke cigarettes, claims a landmark report published yesterday.
The study, published in Annals of Internal Medicine, looked at 181 people who either smoked exclusively, former smokers who used either nicotine patches or e-cigarettes, and smokers that also either used nicotine patches or e-cigarettes. The findings of the study, undertaken by King's College London and funded by Cancer Research UK, reported that whilst the nicotine levels of people who used e-cigarettes or nicotine patches was similar to smokers, the levels of toxins and cancer-causing ingredients was "substantially reduced".
These new results contradict previous studies that proposed that e-cigarette use was as harmful as smoking. The study does note however that the reduced health risks are only attainable if a person stops smoking entirely, and switches exclusively to either e-cigarettes or nicotine patches.
E-cigarettes, or vaporisers work similar to cigarettes. Rather than lighting a combustible tobacco cigarette however, an e-cigarette heats a nicotine liquid and breathes in the resulting nicotine. The result, as claimed in this study, is a way to absorb nicotine into the body without taking in the other carcinogenic and toxic ingredients of a typical cigarette.
These results come amid a conflict between researchers on the possible health effects of e-cigarette use, with American studies concerned about the "gateway effect" among non-smokers and the young. A report on this published the day before in the BMJ journal Tobacco Control, argues that young people are "desensitised" to the risks of smoking and that vaping was a "one way bridge" that would serve as a gateway to cigarette use.
The study, which looked at 16-17 year old 12th grade students in the United States, alleges that teenagers were four times as liked to move on to smoke cigarettes. The design of the study has been criticised by researchers and claimed its findings were trivial, noting that almost all e-cigarette users are past smokers and a large assumption has been made in the study's conclusion.
There are other health concerns to consider. There still lacks a study in the ingredients of e-liquid and their long term health implications, which lead to mostly-debunked allegations that vaping can cause a damaging respiratory condition nicknamed "popcorn lung". There were also safety allegations involving exploding vaporisers, which was later found to be caused by the connection of incompatible e-cigarette parts. The study also did not take into account passive inhalation of neither e-cigarette vapour nor cigarette smoke, and so it remains to be seen whether vaporisers will continue to be included in the indoor smoking ban.
The study is important for confirming that the primary purpose of switching from cigarettes to vaporisers (avoiding the toxins and cancer causing by-products of cigarettes) is indeed the case, and is a major step towards the acceptance of e-cigarettes as a quitting aid for smokers, and allows for further research into newer health implications that come with this new technology.
UK HEALTH CENTRES
SELECT A LOCATION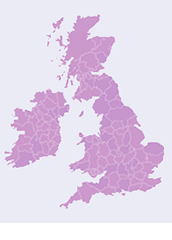 UK Health Centre