Mothers who had Covid urge pregnant women to have the vaccine
Latest UK Health & Medical News »
Thursday 9th December 2021
Mothers who had Covid-19 have urged pregnant women to have the vaccine in a bid to reduce the number of women needing hospital treatment during pregnancy and childbirth.

Three unvaccinated mothers have shared their experiences in a new video created by the NHS and the government to raise awareness of the risks and encourage pregnant women to have the jab.
Tanviha, one of the women featured in the video, said that her family was told to prepare for the worst after she contracted Covid while pregnant with her son. At the time, vaccines had not been approved for pregnant women. Tanviha, who works in anaesthesiology and research in Manchester, said that she became ill very quickly and her condition deteriorated rapidly. At one point, the team caring for her was going to switch the machine keeping her alive off, but as a last resort, she was transferred to an ECMO machine, which ultimately saved her life. She first met her son, who was delivered by emergenc Caesarean section, when he was two months old.
Vaccines have since been approved for pregnant women and Tanviha is urging anyone who is eligible to have the jab. She claims that she has been lucky, but said that the experience was the "scariest" of her life. 
Statistics from the Department of Health indicate that 98% of pregnant women who fall critically ill with Covid-19 are not vaccinated.
In addition to three women who have fought Covid during pregnancy, the NHS video also features frontline staff who have cared for pregnant women. They detail what it is like to look after patients with severe symptoms of Covid and encourage anyone who is thinking about having the vaccine to come forward. The vaccine has been recommended by the JCVI for pregnant women. Studies suggest that unvaccinated women have a far higher risk of contracting the infection and requiring hospital treatment. 
Figures show that unvaccinated pregnant women account for almost 20% of patients who are critically ill with Covid-19.
UK HEALTH CENTRES
SELECT A LOCATION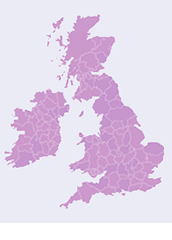 UK Health Centre