New Covid drug to be made available for vulnerable patients
Latest UK Health & Medical News »
Wednesday 22nd December 2021
A new Covid drug has been made available for vulnerable patients. Sotrovimab, a monoclonal antibody, will be available on the NHS from Monday 20th December. The drug is given as a transfusion and will be provided for patients who have had transplants, cancer patients and other high-risk categories. Trials suggest that the medication can help to prevent serious symptoms if administered quickly after the first signs of Covid infection appear. Initial testing indicates that the treatment will be effective against the Omicron variant. 
Prof Steven Powis, national medical director at NHS England, said that new Covid drugs have "an important role to play." The drugs will be targeted towards at-risk groups. If individuals who are deemed high-risk test positive, health teams will be in touch to discuss accessing the treatments. It is hoped that the drugs, along with vaccines and boosters, will help to prevent more people from developing severe symptoms, which require hospital treatment.
Most therapies that are already used to reduce risks of serious disease are designed for treating patients who are already in hospital. Now, a new wave of treatments has become available, which could help to lower the number of patients who have to go into hospital. 
Sotrovimab was developed by GlaxoSmithKline and Vir Biotechnology. It is thought to reduce the risk of hospital admission by around 79% in high-risk patients. The drug reduces risks by binding to the spike protein, which is located on the outside of the virus. This prevents the virus from entering the cells and means that it cannot replicate. GSK confirmed that early tests suggest that it should still be effective on the new Omicron variant. 
There are approximately 1.3 million patients who could be eligible for Sotrovimab. New treatments are also in development, which could benefit vulnerable patients. Examples of patients who may qualify for treatment include those with cancer, heart disease and diabetes, as well as patients who have had transplant surgery. 
The drug is most effective when prescribed shortly after the first symptoms appear. The aim is to give the drug within 5 days of infection through community clinics and outpatient departments in hospitals.
UK HEALTH CENTRES
SELECT A LOCATION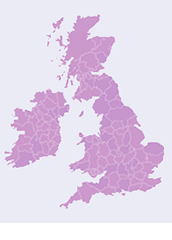 UK Health Centre