Danne Montague King Treatment for Rosacea
Apart from the intense pulsed light treatment for rosacea, there are also certain other techniques that are widely used to combat the symptoms of rosacea.
The development of clinical techniques such as the Danne Montague King treatment and the Obagi Rosaclear System treatment has resulted in the treatment of rosacea becoming more effective over the years.
What is the Danne Montague King treatment and how does it work?
This is a revolutionary treatment that aims to combat symptoms of rosacea such as pimples and scarring of the face and neck in individuals who suffer from rosacea.
This treatment is said to be quite intense and requires a high level of knowledge about the procedure. For that reason, it is not a widely offered technique in the UK, with its availability being limited to a handful of clinics across the country. It is also a requirement for these clinics to be regularly assessed to ensure that the standard of service provided remains high. Furthermore, the clinics must undergo extensive training programmes in order to ensure that the treatments offered remain safe and effective thereby ensuring the safety of the individuals who undergo the procedure.
Following such extensive procedures to ensure its success and safety, this procedure promises effective results even fore the more complicated cases of rosacea.
The Danne Montague King treatment uses a combination of skin peeling techniques as well as the use of enzyme therapy to produce optimum results for rosacea treatment.
The first stage of this technique is the skin peeling process allows the removal of dead skin, which is said to be the primary cause of dryness of the skin as well as skin redness. The removal of unwanted dead skin allows regeneration through the growth of new healthy skin, which causes an improvement in the skin appearance. This process is further enhanced by the use of enzyme therapy to provide essential nutrients such as protein and amino acids to the existing skin thereby increasing the life of the cells within the skin and allowing them to operate at their optimum level. The next stage involves the use of products to protect the skin cells from damage resulting from exposure to direct sunlight and other environmental conditions, followed by the constant revitalization of the skin cells thereby maintaining the results of the therapy. The factor that has made Danne Montague King products so popular is their effectiveness in the treatment of skin conditions in celebrities. Many of these products are available for sale online, however most suppliers recommend that you book a consultation appointment before purchasing any product. Since there is a very large variety of products to choose from, your consultant will be able to advise you on the type of product that is best suited for your skin, as well as to provide you with instructions on how to use the products to achieve optimum results.
---
« Rosacea Treatment Through Intense Pulse Light Obagi Rosaclear System Treatment for Rosacea »
ROSACEA INFORMATION
UK HEALTH CENTRES
SELECT A LOCATION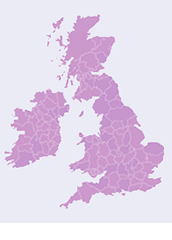 UK Health Centre