Acne Scar Surgery
Acne scar surgery is very widely used and is often one of the most successful ways to minimise and ultimately remove your acne scars. The main idea of acne scar surgery is to reduce the depth and severity of your scars so that they are either unnoticeable or more likely to heal in time. Sometimes patients are given laser skin resurfacing after acne scar surgery. This is done to reduce even further the scars that the surgery has made smaller.
You may have concerns about going under the knife to improve your acne, especially if you are going to be conscious at the time. However, as it is performed under local anaesthetic, acne scar surgery is a painless and often very quick procedure.
One of the key benefits of acne scar surgery is that, thanks to modern surgical techniques, it can be used to combat different kinds of acne scar. It can sometimes be performed by your dermatologist or by a plastic surgeon and can be used to correct dips caused by depressed scars through either lifting them or filling them in and can remove raised scars. This kind of surgery can also combat damage below the surface of the skin and so is effective at dealing with rolling scars too. There are four main types of this surgery:
Punch Excision
This form of acne scar surgery is often recommended for use on ice pick scars. During the surgery your scar is literally cut out of you skin with a tool a little like a cookie-cutter. Once your old scar has been removed your skin is then sown back together around the area where the original scar was. This creates a much smaller, neater and less noticeable scar with a greater likelihood of fading and healing. After the skin has healed you can have further laser skin resurfacing which can completely remove all traces of your acne scar.
Punch Elevation
Punch Elevation is used most frequently to reduce severe boxcar scars. During the process the flat bottom of the scar is removed in a punch excision however, in this case, the 'walls' of the scar are not taken away. The new 'scarless' base of the wound is then sutured or glued to the surface of the skin. This elevates the scar and makes it less deep, which minimises it.
Punch Grafting
To treat particularly deep or severe scars punch grafting is used. This technique is usually only used if the scar is so large that, after a punch excision, the skin around the excision will not stretch far enough to be fixed together over the old scar. In these cases, a small amount of skin is taken from elsewhere on the body, usually behind the ear, and used to 'fill in the gap'. This is done by suturing or gluing the new skin to the old skin. Sometimes the skin graft is a different colour to the skin of the face but this unevenness can be rectified by other techniques such as laser resurfacing or chemical peeling.
Subcutaneous Incision
This type of acne scar surgery is mostly used to treat rolling scars. It works by separating the surface of the skin from the deeper layers of skin that are damaged by scar tissue. This is done using a specially shaped needle that is inserted back and forth between the upper and lower layers of skin. This disconnects the two layers of skin, which allows blood to flow between them. This pushes the affected surface of the skin upwards and into line with your unscarred skin.
---
« Treatment for Acne Scars - Surgery, Laser, Dermabrasion, Skin Peels, Dermal Fillers & Steroids Dangers, Risks & Side Effects of Acne Scar Surgery »
Guide to Surgery for Acne Scars
ACNE INFORMATION
UK HEALTH CENTRES
SELECT A LOCATION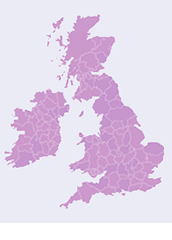 UK Health Centre