Bleaching Melasma
Bleaching is one of the most common treatments for melasma. This is as a result of the fact that the cream is available on NHS prescription and can be brought cheaply over the counter. Whilst bleaching creams do not cure melasma they can be used to reduce the appearance of the discolouration.
How to Get Bleaching Cream for Melasma
Bleaching cream can be harmful if used incorrectly and therefore it is recommended that you speak to your doctor who will be able to advise you on how to use it and for how long it should be used. Bleaching cream is available on NHS prescription however some brands can be purchased over the counter if you prefer to do so.
What is used to Bleach Melasma?
The most common bleaching cream prescribed to treat melasma is hydroquinone. It is normally used in a percentage of up to 2 % but can be prescribed in concentrations of up to 4 %. Hydroquinone works by preventing the enzyme tyrosinase from producing melanin. This leads to a decrease in the production of skin pigment and the breakdown of the existing melanin.
How to Use Hydroquinone
You should always do a small test patch at least twenty- four hours before applying the cream to your entire face. If any redness, itching, or discomfort occurs you should not use the cream and should speak to your doctor about alternatives.
You should always apply the cream to clean and dry skin and should apply it as directed either by the prescribing doctor or by the information on the box. The directions are normally to apply a small amount of the cream to the treatment area twice a day and to rub in until it has fully penetrated the skin. You should try to avoid letting the cream come into contact with normal coloured skin and should wash your hands thoroughly after applying it. You should always wait for several minutes before applying any other product to your skin, including makeup or sun protection cream.
Side Effects of Hydroquinone Use
There are very few side effects of hydroquinone and most patients use it without any complications. You may experience some mild skin irritations such as itching, stinging, and reddening. If these symptoms do not disappear within a short space of time you should stop using the cream and try alternative methods for treating your melasma.
It is believed that prolonged use of hydroquinone can cause the skin to become thinner. This means that after prolonged use your melasma could become worse as your skin may be more susceptible to sun damage.
In rare cases, some people have an allergic reaction to hydroquinone. This presents with severe burning, itching, inflammation, and the appearance of a crust or discolouration over the treatment area. If this is the case, you should stop using the cream immediately and seek medical aid.
---
« Treatment for Melasma on the NHS Laser Treatment for Melasma »
MELASMA TREATMENT INFORMATION
UK HEALTH CENTRES
SELECT A LOCATION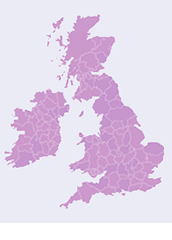 UK Health Centre