Dermal Fillers, Botox & Other Popular Skin Treatments in Caerphilly
If you have not had any skin treatments before and would like further information or if you would like to book an appointment/consultation in Caerphilly, please enter your contact details on the form on the right and we will be in touch.
Clinics in Caerphilly
CosmeticliniC Centre for Medical Aesthetic Treatment
Bedwas Health Centre
East Avenue
Bedwas
Caerphilly
Wales
CF83 8AE
Tel: 029 2086 4989
Information About This Clinic: CosmeticliniC is a doctor led practice that involves the delivery of great non-surgical aesthetic options for anyone looking to make use of the remarkable effects of popular facial treatments like dermal fillers and Botox. Dr Subhash Kaushal, Dr Sarita Pawar, and Dr N Rajann provide treatments at the facility, and are all GPs registered with the GMC (General Medical Council), the regulatory body responsible for maintaining professional medical standards. At CosmeticliniC the latest technologies and techniques are used to great effect, such as ultrasound and laser, while at the same time tried and tested methods of delivering great results like acupuncture and Botox are also widely employed. CosmeticliniC is part of the Bedwas Health Centre, an NHS General Practice that offers many other services all from within the same site.
Dermal Fillers: The fillers used at CosmeticliniC, a provider of non-surgical facial aesthetics in Caerphilly, make use of synthetic Hyaluronic acid, a substance which is actually naturally occurring and is important to the skin's ability absorb and retain moisture. As we grow older our skin produces less and less Hyaluronic acid as a consequence of the effects of time and the environment, which can result in a loss of skin volume as our skin can't retain moisture as it should. The wrinkles that form as time goes by is in part because of this, and what a dermal filler does is restore the ability to hold on to moisture to your skin, effectively 'filling out' wrinkles and lines and making your skin visibly healthier.
Types of dermal filler offered at this clinic: (Not listed).
Botox: Botox injections are used by CosmeticliniC as a solution to an unwanted but nonetheless persistent sign of aging: wrinkles. Certain wrinkles are caused by muscular movements in your face, and a Botox injection is a quick and sure way of relaxing those muscles and keeping those facial lines away.
Treatment for Hyperhydrosis: If you have been suffering from excessive sweating, you know how seriously it can affect your lifestyle, confidence, and freedom if you're constantly aware of or worried about potential large and embarrassing sweat stains. Hyperhidrosis treatments at CosmeticliniC are a great way to achieve long lasting dryness and the confidence that comes with that.
List of All Treatments Offered at this Clinic: Rejuvenation, hair removal, Sculptra, hyperhidrosis, treatment laser tattoo removal, travel clinic, lines and wrinkle treatment (fillers and Botox), acupuncture, private GP, well woman and well man clinics, minor surgical treatments, non-surgical facelifts, radiofrequency treatments, laser treatments, ultrasound treatments.
Invisage Aesthetics
18 Sword Hill
Caerphilly
Wales
CF83 2AG
Tel: 07746 256283
Information About This Clinic: Invisage Aesthetics comes to you to deliver free consultations and fully certified aesthetic procedures. Invisage covers South East Wales, with a focus on Cardiff and its surrounding areas because of the dense and diverse population therein. Botox and dermal fillers, possibly the most well-known and highly desired non-surgical treatment options, are provide by Invisage Aesthetics. A consultation is the first step towards any treatment, and will involve a chat with Invisage staff that will cover your options and what you want to achieve, you can expect advice about how to proceed with your treatments and which ones will suit your skin best. As a mobile service Invisage will come to you, performing rejuvenating therapies in the comfort and convenience of your own home, with aftercare support also available at your convenience.
Dermal Fillers: Invisage Aesthetics, a mobile service based around Cardiff and South East Wales, offers a unique type of dermal filler that involves stimulating your skin's natural production of collagen. Collagen is often a target of skin therapies because of its importance to skin health, collagen provides elasticity, firmness, and youth to skin, and dwindling supplies of collagen are one of the reasons why our skin ages. These fillers are simple injections that are performed by Invisage staff to quickly sort out wrinkles and other facial lines.
Types of dermal fillers offered at this clinic: (Not listed).
Botox: Botox is basically an injection of purified protein, a particular protein called Botulinum toxin A which aims to relax muscles in your face, and hence alleviate wrinkles caused by those muscles. Invisage Aesthetics offer Botox injections in the comfort and privacy of your home, making this treatment quicker and more convenient than ever before.
Treatment for Hyperhydrosis: Botox injections are much more widely known as an anti-wrinkle treatment, however they do have another important use, namely as a treatment for hyperhidrosis. Hyperhidrosis refers to the excessive underarm sweating that can affect people of all ages, and a Botox treatment with Invisage Aesthetics can deal with the issue for several months at a time.
List of All Treatments Offered at this Clinic: Hyperhidrosis, dermal fillers, and Botox.
---
COSMETIC TREATMENTS
UK HEALTH CENTRES
SELECT A LOCATION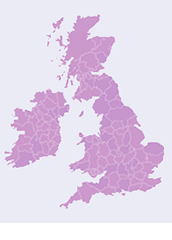 UK Health Centre