Dermal Fillers, Botox & Other Popular Skin Treatments in Lichfield
If you have not had any skin treatments before and would like further information or if you would like to book an appointment/consultation in Lichfield, please enter your contact details on the form on the right and we will be in touch.
Clinics in Lichfield
Lily Skin (Cherry Vanilla, Lichfield)
Backcester Lane
Lichfield
West Midlands
ES13 6JH
Tel: 01543 411 477
Information About This Clinic: Lily Skin cover a broad area in the West Midlands by running clinics out of a number of different locations, allowing you easy, quick, and convenient access to skincare treatments and consultations. Lily Skin approach your skincare in the long term, providing you with a structured and personal approach that aims to rejuvenate your skin and help you achieve your aesthetic goals. With consummate professionalism the Lily Skin team will provide you a free first consultation, during which what you want to achieve will be discussed in depth.
Dermal Fillers: Lily Skin provide their services out of a Lichfield location on Backcester Lane called Cherry Vanilla to ensure broad coverage of the West Midlands. Dermal filler treatments are an important service provision at Lily Skin because of how successfully the fillers can restore smooth and healthy skin. Restylane and Juvederm are market leading dermal fillers that are used by Lily Skin, and the quality of these treatments become evident in the results achieved.
Types of dermal filler offered at this clinic: Juvederm ULTRA (2, 3, and 4), Teosyl, and Restylane.
Botox: Botox injections are one of Lily Skin's popular offerings. Botox is in fact the name of a brand, albeit the most well-known brand, of Botulinum toxin A, the active ingredient that is directly responsible for the world famous anti-wrinkle effects of the Botox injection. At Lily Skin's Lichfield location, Cherry Vanilla, you can receive a range of different Botulinum toxin A injections, including two of the most commonly sought after brands, Botox and Dysport. A selection of other brands are offered to provide you with as much choice as possible.
List of All Treatments Offered at this Clinic: Dermal fillers (Restylane, Juvederm, Teosyl), Botulinum toxin A (Xeomen, Dysport, Azzalure, Botox, Vistabel), lip enhancement.
---
COSMETIC TREATMENTS
UK HEALTH CENTRES
SELECT A LOCATION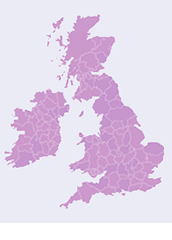 UK Health Centre