Dermal Fillers, Botox & Other Popular Skin Treatments in London
If you have not had any skin treatments before and would like further information or if you would like to book an appointment/consultation in London, please enter your contact details on the form on the right and we will be in touch.
Clinics in London
Cosmedics
14 Queen Anne Street (Off 24 Harley Street)
London
W1G 9LG
Tel: 020 7386 0464
Information About This Clinic: As a nationwide provider of skin treatments, Cosmedics naturally holds clinics in London. One of these is based in the prestigious Harley Street, home to world famous cosmetic professionals and a location to which people across the world are drawn for treatments thanks to its illustrious reputation. The Harley Street Cosmedics Clinic is right in the heart of London, and so easily accessed from any number of public transport routes, the closest of which include the Oxford Circus and Baker Street Underground Stations. The Harley Street team is composed of leading professionals in the field, and the clinic itself is equipped with a plethora of cutting edge technologies that allow for the delivery of the best results facial aesthetics has to offer.
Dermal Fillers: Treatments offered at Cosmedics include a range of non-permanent facial fillers from two leading manufacturers of such products, namely Restylane and Juvederm. Restylane and Juvederm injectables are top of the range products and can be applied by the qualified and registered doctors at Cosmedics to smoothen wrinkles or to redefine features like your cheeks and lips in a manner of your choosing. These fillers are extremely safe and bio-friendly, and in fact they work by restoring lost natural compounds (hyaluronic acid) to skin which is wrinkling.
Dermal fillers offered at this clinic: Restylane, Juvederm.
Botox: Cosmedics on Harley Street can deliver Botox injections on site, providing a convenient, quick, and above all effective method of treating dynamic wrinkles.
Chemical Skin Peels: Murad Skin Peels are professionally manufactured treatments specially formulated and devised to effectively cleanse your skin. A course of skin peels is usually suggested at Cosmedics to give you the full benefit of the treatment, which can not only refresh your skin but treat fine wrinkles, acne scars, and the like
Treatment for Hyperhydrosis: Botox treatments are not only a fantastic method of restoring youth to skin that is suffering from the passage of time, they can in fact also be used to stop excessive sweating, keeping you sweat stain free consistently for several months.
List of All Treatments Offered at this Clinic: Mole removal, wart removal, skin tag removal, thread veins, excessive sweating, Murad Peels and facials, laser hair removal, CACI non-surgical, dermaroller, lip enhancements.
MyFaceMyBody - My Dermal Fillers London
48 Harley Street
London
W1G 9PU
Tel: 020 7060 7381
Information About This Clinic: MyFaceMyBody is housed on the world renowned Harley Street in London, a short walk from a number of Tube stations, bus stops, and parking spaces, the clinic's site is as conveniently positioned as it is prestigious. MyFaceMyBody aims to help you make the correct decision about which facial aesthetics treatment is right for you. The detailed information on the clinic's website aims to give you any information you need, but should you have further questions a consultation is easy to arrange and carries with it no obligation to continue with treatments if you choose not to pursue any.
Dermal Fillers: Dermal fillers can not only offer unlined, younger skin, they can deliver these results quickly and cost effectively. These injectables are safe, as has been proven by years of use by practitioners across the world, and have been shown to be extremely effective anti-wrinkle agents. Fillers' effects can last for several months depending on the area treated and your skin's natural composition and response to the product. Dermal fillers' uses aren't limited to wrinkle reduction however, as they can be used to plump up lips to improve their appearance, or even to re-define the shape of your cheekbones or jaw. What dermal fillers can achieve in the right hands is truly remarkable, and at MyFaceMyBody on London's Harley Street you will receive your treatment from professionals with the skill, experience, and qualifications that allow for truly magnificent results.
Dermal fillers offered at this clinic: (Not Listed).
List of All Treatments Offered at this Clinic: BodyTite, Stem Cell Enriched Facelift London, Dermal Fillers.
Lotus Clinic
943 Finchley Road
Golders Green
London
NW11 7PE
Tel: 020 8201 8080
Information About This Clinic: The Lotus Clinic is a provider of dental and aesthetic therapies in London's Golder's Green. Since its inception over a decade ago, Lotus Clinic has aimed to keep itself at the very top in terms of standards in the fields of aesthetic medicine and cosmetic dentistry. Both fields are rapidly evolving, and with new technologies and techniques emerging regularly, Lotus has established itself as a practice that keeps up with the rapidly evolving area of aesthetic treatments. The Lotus Clinic is can offer popular dental options such as dental implants and laser tooth whitening alongside highly coveted anti-wrinkle therapies, giving you an opportunity to redefine your appearance as you see fit under one highly trained and well established roof.
Dermal Fillers: A fashionable and successful anti-wrinkle treatment is the dermal filler, an injectable therapy akin to Botox in that results are almost instantaneous, but different in its mode of action. While Botox injections relax muscles that cause certain classes of wrinkles, dermal fillers aim to replenish lost supplies to skin that has wrinkled as the result of a loss of these substances. The most commonly used fillers are made up of hyaluronic acid, a material that is vital to healthy, full, and young looking skin. By injecting hyaluronic acid into wrinkled areas, dermal filler treatments restore this much needed element and thereby effectively 'fill' facial lines. The Lotus Clinic in London's Golder's Green offers dermal filler therapies on top of a number of other much coveted skin and dental treatments.
Dermal fillers offered at this clinic: (Not listed).
Botox: Wrinkle relaxing treatments as offered by Lotus Clinics in London are Botox injections which target the facial muscles that cause wrinkles like forehead lines and crow's feet.
List of All Treatments Offered at this Clinic: Laser hair removal, cellulite and fat reduction, dermal fillers, wrinkle relaxant treatment, lip enhancement, skin resurfacing, general dentistry, dental lasers, straighter teeth, invisible braces, Inman aligner, cosmetic treatments, dental implants, invisible braces.
Face Clinic London
10 Harley Street
London
W1G 9PF
Tel: 0845 680 6285
Information About This Clinic: Originally founded by two fully qualified medical doctors, Face Clinic London is a source of facial cosmetic treatments provided at the hands of doctors rather than beauty technicians or trained nurses. Objective free consultations are on offer at the Face Clinic, giving you a chance to receive a completely free evaluation of your skin and medical advice pertaining to skin treatments from a doctor. Everyone has personal goals when it comes to facial aesthetics, and it is these ambitions which Face Clinic London works to achieve.
Dermal Fillers: Used to reduce and remove facial lines, dermal fillers are a powerful tool in the facial cosmetics arsenal. Provided at the Face Clinic in London, dermal filler treatments are a great answer to your wrinkle problems. One of the great things about these fillers is that results can be seen virtually instantly, and moreover because they work by restoring natural substances that have been lost with age, the results are very natural with no unwanted changes to your expression or features. Filler treatments are popularly applied to treat nasolabial folds (lines from mouth to nose), frown lines, and the lips (to redefine and shape them).
Dermal fillers offered at this clinic: Perlane, Teosyal, and Restylane.
Botox: Wrinkle treatments at the Face Clinic London include Botox injections to treat frown wrinkles, forehead lines, and crow's feet.
Chemical Skin Peels: Chemical peels are performed at the Face Clinic in London as a quick but effective way to refresh your skin, leaving you looking and feeling great in as little as 30 minutes, after which results are instantly visible and you are free to go about your day feeling fantastic.
Treatment for Hyperhydrosis: Excessive sweating solutions are provided by Face Clinic London, and involve the application of Botox injections to sweat prone areas like the underarms, leaving you stain free for about 6 months.
List of All Treatments Offered at this Clinic: Wrinkle treatments, semi-permanent make up, sweating treatments, dermal fillers, chemical peels.
Dermadoc
2 Wimpole Street
London
W1G 0ED
Tel: 0770 7364444
Information About This Clinic: A short walk from the Bond Street and Oxford Circus tube stations, Dermadoc is a well established provider of dermatological treatments that aim to enhance your appearance or defy the effects of time. Regardless of what you wish to achieve through a facial aesthetic treatment, Dermadoc will be able to cater to your needs, delivering great smooth, healthy skin through the application of some of the best technologies available on the market today.
Dermal Fillers: Dermal fillers are particularly effective at treating wrinkles in particular regions like the mouth, nose and chin. These simple and safe injections are applied to aging skin at Dermadoc, a practice located just opposite the world famous Harley Street. Dermadoc's treatments are highly effective anti-wrinkle solutions and available at your convenience.
Dermal fillers offered at this clinic: Teosyal, Juvederm ULTRA, Restylane.
Botox: Wrinkle relaxation is the premise of Botox injections, provided at Dermadoc as a means by which to restore vitality to lined skin.
Microdermabrasion: Dermadoc's microdermabrasion offering can refresh skin in the space of a lunch break. This method of exfoliation strips away debris on the surface of skin, leaving it pristine and healthier than ever.
Chemical Skin Peels: A skin peel is a great way to treat your skin to a fantastically deep clean that can even remove fine lines, surface scars, and acne. Offered at London's Dermadoc, skin peels are a great choice if you're looking to get your skin looking great quickly and effectively.
Dermal Roller: Dermaroller micro-needling is a popular method of stimulating collagen production in skin that has suffered from acne, sun damage, stretch marks, or any one of many other surface blemishes.
List of All Treatments Offered at this Clinic: Microdermabraion, hyaluronic acid injections, Dermaroller microneedling, lip augmentation, dermal fillers, wrinkle relaxing injections, laser hair removal.
B Dental
61 Islington Park Street
London
N1 1QB
Tel: 020 7226 8074
Information About This Clinic: B Dental aims to provide professional care in a contemporary and luxurious setting, delivering quality treatments in a great environment in one of the trendiest parts of London. Based on Islington's Upper Street, B Dental provides modern amenities to waiting clients and those receiving treatments, including popular magazines, WiFi access, and free lattes, all in a comfortable space with an abundance of natural light. You can bring in any entertainment equipment you have and even watch a DVD during a treatment session! All these measures aim to establish a sense of comfort which contributes to a great overall experience, including fantastic results from whatever treatment you are looking for. B Dental's collection of cutting edge treatments delivered at the hands of highly professional and well trained practitioners complements the luxury of the clinic itself, making it one of the go to locations in London for dental therapies and choice facial aesthetics treatments.
Dermal Fillers: B Dental's anti-wrinkle options are applied by Dr Jonathon Collier, who provides his services on Friday afternoons (weekly) as well as Saturday mornings (bi-weekly). Dr Collier is a facial surgeon with a background in non-surgical facial aesthetics, who offers both dermal fillers and Botox injections out of B Dental's Islington clinic. Dermal fillers are a favourite thanks to their great, natural looking results. These fillers are applied to skin that, as a consequence of age, starts to lose moisture and elasticity and thereby becomes wrinkled. Fillers restore lost materials, namely hyaluronic acid in most cases, and reverse the effects of time to yield young, fresh looking skin.
Dermal fillers offered at this clinic: (Not Listed).
Botox: B Dental offers Botox injections through the capable hands of practicing facial surgeon Dr Jonathon Collier.
List of All Treatments Offered at this Clinic: Facial rejuvenation, oral surgery, gum disease, root canal treatment, bridges, teeth whitening, dental hygiene treatments, veneers, crowns, white fillings.
Wimpole Aesthetic Centre
48 Wimpole Street
London
W1G 8SF
Tel: 020 7224 2247
Information About This Clinic: Wimpole Aesthetics is a family run non-surgical practice based on London's Wimpole Street. The focus at Wimpole Aesthetics is not only on delivering great treatments and professional care, but on empathising with you and focussing on your goals as an individual. This personal approach to your care is something that a family run business can offer, and as a result you can expect a much more comfortable experience overall. Wimpole Aesthetics is the practice of Dr Joshua Berkowitz, a graduate from the University of Birmingham's renowned Medical School in 1971. With over 4 decades of experience in medicine, Dr Berkowitz can offer you the peace of mind that comes with knowing that you are receiving your treatment in the very best of hands. Under Dr Berkowitz a small team composed of a practice nurse and medical aestheticians deliver a wide selection of different treatments.
Dermal Fillers: Dr Berkowitz's cosmetic practice, the Wimpole Aesthetic Centre, provides a personalised dermal filler treatment in the heart of London. Dermal filler injections are quickly applied, usually taking only about half an hour, and results are evident almost instantly after the treatment. These injectables are extremely successful anti-wrinkle agents, and with over 20 years of broad use in the market, brands like Restylane and Juvederm which are used by Wimpole Aesthetics have proven to be safe. Non-permanent hyaluronic fillers like these are extremely bio-compatible, and as such discomfort and irritation are kept at an absolute and short-lived minimum.
Dermal fillers offered at this clinic: Restylane, Juvederm, Perlane.
Botox: Anti-wrinkle Botox injections are applied by the Wimpole Aesthetic Centre to high standards which manifest as great looking results. Botox smoothens lined skin by relaxing muscles that can cause our skin to furrow and line, easing line causing tension and defying the effects of age.
Microdermabrasion: Microdermabrasion is a very simple procedure that yields fantastic results. By means of an advanced instrument which applies a fine stream of extremely small crystals to mechanically exfoliate skin, both removing unwanted surface debris like dead cells and stimulating treated skin to repair itself by forming new, pristine skin cells.
Chemical Skin Peels: Chemical peels are a sister treatment to microdermabrasion offered at the Wimpole Aesthetic Centre. Where microdermabrasion uses mechanical exfoliation, chemical peels use, as the name suggests, chemical exfoliation to reach the same end. The experience of the team at the Wimpole Aesthetic Centre will allow them to suggest the best course for your skin.
List of All Treatments Offered at this Clinic: Dermal fillers, mesotherapy, collagen injuction, SmartXide, scar reduction, Smart Lipo, vaser lipo, APRP treatment, tightening, thermage, Vitiligo Treatment, VelaSmooth, Polaris, IPL, microdermabrasion, Botulinum toxin, Sculptra, chemical peels, carboxytherapy, erectile dysfunction, corrective skin treatments, skin and mole analysis, hormone balancing, hypnotherapy.
Dr Michael Prager
25 Wimpole Street
London
W1G 8GL
Tel: 020 7323 4660
Information About This Clinic: With recommendations from as prestigious and renowned a publication as The Times, Dr Michael Prager is one of the go to professionals if you are looking for anti-wrinkle injections in London. Injectable therapies are the jurisdiction of Dr Prager, who has been practicing cosmetic medicine on Harley Street and its neighbouring Wimpole Street since 2001. Moreover Dr Prager also operates a second clinic in Oslo, Norway. German born and with a long list of credentials and qualifications, Dr Prager is a leading practitioner of aesthetic medicine, a field which can provide a youthful appearance without the need for surgery. Enhancing your natural beauty by diminishing obvious signs of aging, injectable wrinkle busting therapies are remarkably effective methods of restoring youth. Dr Prager is devoted to a personal philosophy which focuses on delivering a natural appearance in such a manner that the treatment itself is virtually undetectable. It is this approach which has set Dr Prager apart from other practices, and has helped him establish himself as a leading figure on London's cosmetic services market.
Dermal Fillers: Dr Prager makes use of Belotoro and Juvederm hyaluronic acid fillers to both vanquish wrinkles and facial lines, and to enhance the appearance of particular facial features. Dermal fillers are broadly known, utilised, and respected for their anti-wrinkle capacity, but their uses are not limited to merely smoothening and rejuvenating skin. These fillers are a superb method of delivering what is known as a 'non-surgical facelift', where in the hands of a skilled practitioner like Dr Prager, the injectables are used to restore volume to parts of the face in such a manner that, for instance, lips are enhanced or cheekbones are made more prominent.
Dermal fillers offered at this clinic: Belotero, Juvederm.
Botox: Botulinum toxin A is more popularly known by many other trade names like Botox, Xeomin, and Dysport, all of which are trade names for a particular substance with potent skin rejuvenating properties. These injections are available at Dr Michael Prager's clinic on London's Wimpole Street.
List of All Treatments Offered at this Clinic: LipoSmooth, Micro-Mesotherapy, Dermal fillers, Lines/Jowls.
Medicitics
37 Connaught Street
London
Greater London
W2 2AZ
Tel: 020 7402 2033
Information About This Clinic: Medicetics is home to UK doctors with training in non-surgical treatments, offering these solutions to common skin afflictions and aesthetic issues out of a clinic based on London's 37 Connaught Street. Medicetics is a completely registered facility under the Healthcare Commission, and hence has its treatments and the site itself under regular scrutiny by the Healthcare Commission to ensure that high standards are met in every respect. If you choose to inquire about a particular treatment at Medicetics, a comprehensive consultation is offered which includes a detailed assessment of your personal aims and your skin. No two people are the same in terms of their skin and what they want to achieve with facial aesthetics, and as such giving due diligence to the initial process of establishing which treatment is best suited to you allows for amazing results to be achieved.
Dermal Fillers: Offering a selection of hyaluronic acid and collagen induction dermal fillers, Medicetics provides a wealth of anti-wrinkle treatments. On top of this broad selection, the professionals at Medicetics will devote their attentions to establishing which one of these treatments will help deliver what you hope to achieve through anti-wrinkle treatment.
Dermal fillers offered at this clinic: Juvederm, Radiesse, Sculptra.
Botox: Botox injections are an additional option for wrinkle treatment provided by Medicetics in London.
Microdermabrasion: Medicetics provides microdermabrasion therapies out of their Connaught Street site to refresh skin and improve its appearance. By cleaning away unwanted clutter and debris from the surface of your skin, Medicetics will provide a smoother and healthier visage.
Chemical Skin Peels: Skin peels are specially composed chemical substance applied to the surface of skin to strip away debris and clutter, thereby leaving skin looking and feeling fresh and healthy.
Dermal Roller: Dermaroller is a popular tool in the world of facial aesthetics, and is used as a method of treating a range of different superficial blemishes like acne scars, stretch marks, and even fine lines.
Treatment for Hyperhydrosis: Excessive sweating need no longer be a source of discomfort and embarrassment thanks to the long lasting solution offered by London's Medicetics.
List of All Treatments Offered at this Clinic: Wrinkle injections, volume, Pelleve, skin peels, laser hair removal, Obagi, Restylane, Microdermabrasion, skin rejuvenation, mole removal, mesotherapy, hand rejuvenation, tear trough, nose job, Radiesse, facials, scultra.
Aesthetic Virtue ' The Knightsbridge Laser Clinic
39-41 Brompton Road
Knightsbridge
London
SW3 1DE
Tel: 020 7084 6337
Information About This Clinic: The Aesthetic Virtue Clinic is based in London's Knightsbridge area, and is the practice of Dr Raina Zarb Adami, a graduate from the University of Malta with post-graduate qualifications from the Royal College of Surgeons in Edinburgh. Qualified and able, Dr Adami takes an integrative approach to non-surgical cosmetics, providing treatments that are suited to achieving particular ends alongside one another. With training in plastic surgery Dr Adami can also offer minor surgical procedures, including split earlobe repairs. The Aesthetic Virtue clinic takes a measured approach to treatments, making sure that you have enough time to consider the pros and cons of your treatment and whether it is what you want. On top of being a fantastic practice in the heart of London, Aesthetic Virtue also offers training in the field of cosmetic medicine, and Dr Adami is certified as a member of the lecturing staff at the Academy of Aesthetic Excellence.
Dermal Fillers: Aesthetic Virtue delivers Restylane, Juvederm, and Teosyal dermal fillers through the practiced hands of Dr Raina Adami. Dr Adami's background in surgery allows for the skilful application of these highly effective methods of treating wrinkles, resulting in a fantastic finish that looks and feels natural, youthful, and healthy. Fillers can do more than just 'fill' out unwanted wrinkles. They are in fact used to plump up or reshape lips, and to contour other parts of the face, including, for example, cheek bones and chins.
Dermal fillers offered at this clinic: Restylane, Teosyal, Juvederm.
Botox: Botox injections are one of the premiere solutions to wrinkling in the world today. Botox is applied at Aesthetic Virtue as a great treatment for Crow's Feet, Brow Lines, Bunny Lines, Smoker's Lines, and many others.
Chemical Skin Peels: Skin peels are a modern version of a classic treatment, where a specially devised chemical concoction is applied to cleanse and heal skin. Provided by Dr Adami's Aesthetic Virtue practice, skin peels are a great way to get your skin looking and feeling great quickly, simply, and effectively.
Dermal Roller: Dermaroller is a relatively new, but nonetheless highly popular method of dealing with superficial scars and blemishes like stretch marks and acne scars.
Treatment for Hyperhydrosis: Hyperhidrosis is effectively treated by Dr Adami through Botox injections applied to the underarms to deliver great results.
List of All Treatments Offered at this Clinic: Wrinkle reduction, fillers, earlobe repair, Obagi Skin Care, hyperpigmentation, Dermaroller, scars, LA peels.
---
COSMETIC TREATMENTS
UK HEALTH CENTRES
SELECT A LOCATION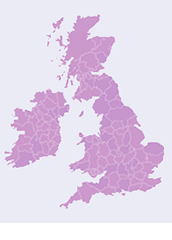 UK Health Centre