Dermal Fillers, Botox & Other Popular Skin Treatments in Newport
If you have not had any skin treatments before and would like further information or if you would like to book an appointment/consultation in Newport, please enter your contact details on the form on the right and we will be in touch.
Clinics in Newport
Visage Beauty Rewind
103 Christchurch Road
Newport
Wales
NP19 7SJ
Tel: 01633 676 247
Information About This Clinic: The effects of aging may be inevitable for most us, but they aren't necessarily permanent, certainly not with services like Visage Beauty Rewind available to rejuvenate our skin. Visage is a provider of two of the most popular non-surgical cosmetic options in the UK and the wider world, namely Botox and dermal filler injections. These injectable solutions for everyday cosmetic problems are accessible, affordable, and safe, making wrinkles and other such effects of aging a thing of the past. Located a short 5 minute drive from one of Wales' busiest cities, Newport, the clinic is easy to get to from much of the South West and Midlands as well as the surrounding areas of Wales. Any and all treatments come under the care of Kim, who will provide a free consultation during which you can make full use of her Harley Street training and qualifications.
Dermal Fillers: Visage Beauty Rewind makes use of Hyaluronic acid based dermal fillers, treatments with a long history of success and safety that makes them a great choice for many people looking to invest in an effective anti-wrinkle treatment. Hyaluronic acid is a substance naturally found in the body which has an important role in maintaining moisture and volume in skin. As we grow older the composition of our skin changes as a result of exposure to the environment and physical changes within us, and one of the consequences of these changes is wrinkling. Dermal fillers like Teosyal, Juvederm, and Restylane rely on injected Hyaluronic acid restoring volume to your skin, and hence getting rid of wrinkling.
Types of dermal filler offered at this clinic: Restylane, Teosyal, Juvederm.
Botox: Botox is actually a muscle relaxing treatment that relieves wrinkling by stopping the contraction of facial muscles that are responsible for wrinkling over time. All it takes is a straightforward injection into the muscles of your face to get rid of many wrinkles and lines, with results becoming visible in virtually no time at all.
List of All Treatments Offered at this Clinic: Botox and dermal fillers.
---
COSMETIC TREATMENTS
UK HEALTH CENTRES
SELECT A LOCATION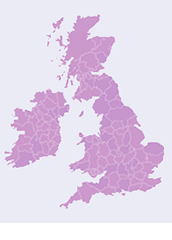 UK Health Centre