Dermal Fillers, Botox & Other Popular Skin Treatments in Oldbury
If you have not had any skin treatments before and would like further information or if you would like to book an appointment/consultation in Oldbury, please enter your contact details on the form on the right and we will be in touch.
Clinics in Oldbury
Brandall Dental Care
4 Brandall Road
Oldbury
West Midlands
B68 8DP
Tel: 0121 552 1333
Information About This Clinic: Brandhall Dental Care is a provider of some of the most sought after treatments in the fields of facial and dental aesthetics. Based in Oldbury just outside Birmingham, the clinic can offer treatments like tooth whitening and Botox at the convenience of one location. Your smile can therefore be enhanced from both in and around your mouth, with whiter teeth and smoother skin that can really amplify your self-confidence. A bridal package is also supplied by Brandhall Dental Care, a set of treatments designed to have you looking your very best for your big day and providing you with invaluable peace of mind and self-assurance.
Dermal Fillers: Restylane is easily the foremost brand of injectable dermal filler in the UK, and for good reason. Restylane fillers are available in a range of different types which are specifically designed to give the best results possible for the part of the face treated. Each Restylane product also makes use of a naturally occurring compound called Hyaluronic acid, which makes them both safe and extremely effective. Restylane therapy is offered by Brandhall Dental Care, a reputable facility by Birmingham in the locality of Oldbury, not far from Junction 2 of the M5.
Types of dermal filler used at this clinic: Restylane.
Botox: Looking for a simple answer to wrinkles and lines? Then you need look no further than Botox, the revolutionary therapy that has taken both celebrities and the general public by storm, stripping away the visible signs of aging safely and effectively. Botox injections are conducted at Brandhall Dental Care in Oldbury by Birmingham.
List of All Treatments Offered at this Clinic: Smile makeovers, Botox injections, white fillings, veneers, Restylane.
---
COSMETIC TREATMENTS
UK HEALTH CENTRES
SELECT A LOCATION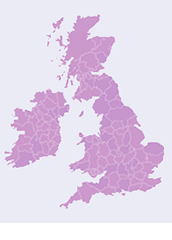 UK Health Centre