Dermal Fillers, Botox & Other Popular Skin Treatments in Portsmouth
If you have not had any skin treatments before and would like further information or if you would like to book an appointment/consultation in Portsmouth, please enter your contact details on the form on the right and we will be in touch.
Clinics in Portsmouth
Sk:n Clinics
Unit 8
St George's Business Centre
St George's Square
Portsmouth
PO1 3EZ
Tel: 0844 669 7533
Information About This Clinic: Sk:n Clinics are located in major cities across the UK, bringing trademark quality and service to localities the length and breadth of the country. The Portsmouth branch of Sk:n Clinics offers the same modern, professional, and dedicated service upon which Sk:n has established itself as a leading national provider of cosmetic services. Conveniently located in Portsmouth's bustling St George's Square, the Sk:n Clinic is accessible and open until late in the evenings to allow for ease of use for even the busiest clients. Dr Adam Haworth is this clinic's medical director, and has been a consultant dermatologist for over 10 years. Dr Haworth has gained a lot of experience in the field of skin care, and his expertise in the field ensures that the very best standards are observed at Sk:n Portsmouth.
Dermal Fillers: Sk:n Clinics offer Juvederm dermal fillers to treat wrinkles, lines, and folds. Juvederm is one of the leading brands in the field of dermal filling, and is a specially formulated hyaluronic acid filler which volumises skin and helps it repair itself. Hyaluronic acid is an essential component of healthy skin, and by replacing it when lost, wrinkles and lines are effectively filled and kept at bay for months on end.
Dermal Fillers offered at this clinic: Juvederm.
Botox: Botox is one of the many treatments on offer at Sk:n Portsmouth. The treatment simply involves the careful injection of a protein called Botulinum toxin A into the muscles responsible for certain types of wrinkles. This substance relaxes these muscles, relieving the tension that causes what are called dynamic wrinkling.
Microdermabrasion: Microdermabrasion is part of a complete set of skin rejuvenation and refreshment treatments at Sk:n Portsmouth.
Chemical Skin Peels: Sk:n in Portsmouth can offer chemical peels to cleanse and treat skin that has suffered at the hands of a busy day to day life. Over time a layer of dead cells, debris, and other clutter forms and contributes to the formation of acne and other skin blemishes. Chemical peels are effective treatments that remove all this unwanted debris and leave your skin completely refreshed.
Treatment for Hyperhydrosis: If you suffer from excessive sweating then Sk:n Portsmouth can provide you with an effective and long lasting solution. Hyperhidrosis affects men and women across the country, but fortunately where traditional anti-perspirants fail a simple injection offered by Sk:n Clinics can succeed.
List of All Treatments Offered at this Clinic: Juvederm, Stretchmark treatments, dermatology, warts and verrucae treatment, hyperhidrosis, laser hair removal, Botox, microdermabrasion, birthmark removal, skin peels, milia removal, facial thread vein treatments, sculptra, laser tattoo removal, leg thread veins.
Oris Medical
92 Kingston Crescent
Portsmouth
PO2 8AL
Tel: 0800 779 7095
Information About This Clinic: Oris Medical can offer you the benefit of treatments and advice from experienced aesthetic doctors in a modern facility complete with everything needed for a comfortable all round experience and truly excellent aesthetic care. Free consultations are provided for anyone interested in a procedure, and should you choose to go ahead with a treatment, Oris Medical prides itself on delivering natural looking results. Oris Medical is unique amongst facial aesthetics practices in that it offers all its treatments from GMC registered doctors as opposed to nurses or technicians. Every doctor in the employ of Oris Medical follow's the UK's regulatory council (the GMC) Good Medical Practice guidelines to ensure that the highest standards are maintained. The Portsmouth Clinic offers a selection of anti-wrinkle therapies under the experienced hands of Dr Richard Mannings and Dr Jayesh Gohii, both of whom have broad experience in their fields.
Dermal Fillers: Dermal fillers and their anti-wrinkle effects are provided by Dr Richard Mannings and Dr Jayesh Gohii at the Oris Medical Clinic in Portsmouth. These medical doctors have established a reputation in the field for their delivery of excellent anti-wrinkle therapies, and are highly sought after by people looking for a real solution to the effects age can have on our skin.
Dermal fillers offered at this clinic: (Not listed).
Botox: Botox injections are an alternative to dermal filler injections offered by Oris in Portsmouth. These injections can achieve similar results, working to eliminate wrinkles and yield smooth looking skin.
List of All Treatments Offered at this Clinic: Dermal fillers, botox, and thread vein removal.
Maxwell Vernon
25 Osborne Road
Southsea
Portsmouth
PO5 3ND
Tel: 07775 77 84 00
Information About This Clinic: Maxwell Vernon is the aesthetics practice of Dr Lester Russell and Lily Russell. Dr Russell has been practicing medicine for over 28 years and has received his training in cosmetics from Dr David Dean, a respected Harley Street practitioner. Dr Russell works alongside his wife Lily who has been a nurse in different medical fields for many years as well. The practice aims to provide the many benefits that non-surgical cosmetic treatments have to offer.
Dermal Fillers: Juvederm injections are an effective and reliable method of alleviating unwanted skin lining and wrinkling. These injections are referred to as dermal filler treatments, and rely on replenishing your skin's lost stocks of hyaluronic acid to treat wrinkling. This is a natural approach that can yield fantastic and natural looking results, which is why it has become so popular in recent years.
Dermal fillers offered at this clinic: Juvederm.
Botox: Botox injections are the trade name for a substance called Botulinum toxin A, a compound which relaxes facial muscles to relieve wrinkle causing tension. Botox is especially effective when used alongside dermal fillers to yield excellent results.
Chemical Skin Peels: The Obagi Peel is recognised across the world as a leading skin peel formulation that can restore your skin to a natural and healthy shine.
Dermal Roller: The Maxwell Vernon practice makes use of the genuine Dermaroller miro-needling product to relieve a number of skin blemishes. This product has been shown to stimulate your skin's self-repair mechanisms, which results in smoother looking and healthier skin.
List of All Treatments Offered at this Clinic: Dermaroller, dermal fillers, Obagi Peel, Botox.
---
COSMETIC TREATMENTS
UK HEALTH CENTRES
SELECT A LOCATION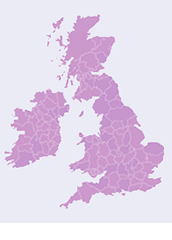 UK Health Centre