Dermal Fillers, Botox & Other Popular Skin Treatments in Sheffield
If you have not had any skin treatments before and would like further information or if you would like to book an appointment/consultation in Sheffield, please enter your contact details on the form on the right and we will be in touch.
Clinics in Sheffield
Sheffield New Faces
17 Bannerdale View
Ecclesall
Sheffield
S11 9FG
Tel: 0114 255 0014
Information About This Clinic: Based in Ecclesall, Sheffield, the New Faces clinic is staffed by an experienced medical doctor ably supported by a nurse practitioner. What Sheffield New Faces offers is a chance to pursue treatments that work. While many over the counter creams and products promise you younger, wrinkle-free skin, the truth is that they can't deliver the same kind of results that non-surgical cosmetics can. Specialising in these treatments, which have been used successfully for years around the world, Sheffield New Faces can deliver on the promise of younger and healthier skin. As part of a complete all round service package, initial consultations are provided free of charge and, if you choose to proceed with a treatment, a follow up appointment will also be arranged completely free 2 weeks afterwards. This ensures that you receive a complete package of all round care.
Dermal Fillers: Derived from natural ingredients that your skin needs to remain healthy and youthful, dermal fillers are an injectable therapy applied to wrinkled skin to remove frown lines and a myriad of other wrinkles. Dermal fillers are composed of materials found in the body, and as such are tolerated extremely well to produce excellent and seamless results. Dermal fillers can be applied on their own or in conjunction with Botox, and this is where the experience at Sheffield New Faces is invaluable as the right tools for the job can be selected for the best outcome.
Dermal fillers offered at this clinic: (Not listed).
Botox: Sheffield New Faces can offer you Botox injections either on their own or in conjunction with dermal fillers to remove wrinkles successfully and safely.
Dermal Roller: Dermaroller has become extremely popular thanks to its remarkable successes in treating a wide range of blemishes and skin conditions. The Dermaroller works by stimulating your skin to heal itself, and therefore the results you get are long lasting and a consequence of genuinely improved skin health.
List of All Treatments Offered at this Clinic: Dermal fillers, Dermaroller, Botox.
Court House Clinics
279 Glossop Road
Sheffield
S10 2HB
Tel: 0114 241 8067
Information About This Clinic: Sheffield is home to a Court House Clinic from which you can receive a range of specialist treatments conveniently and affordably. The Sheffield clinic is located a short distance away from the Sheffield Rail Station and the M1, making it accessible by both car and train. The clinic itself is home to a specialist cosmetic surgeon, sclerotherapy specialist, and a team of qualified and experienced aesthetic nurses and medical aesthetician, all under the leadership of Clinical Manager Rebecca Squires-Perry. The clinic can offer you a range of different skin rejuvenation and restoration treatments including laser hair removal, rejuvenation injections, and skin peels. Alongside these non-surgical options, consultations for surgical procedures can be arranged.
Dermal Fillers: Using dermal fillers the specialists at Sheffield's Court House Clinic can deliver almost instantaneous results, smoothening a wide range of wrinkles effectively and in a manner that is both healthy for your skin and long lasting. Dermal fillers like Restylane Lipp can also be used as effective methods of reshaping and recontouring your lips if that is something you are looking to achieve.
Dermal fillers offered at this clinic: Juvederm ULTRA, Restylane, Perlane.
Botox: Botox treatments are becoming more popular as facial aesthetics is becoming recognised as an effective and safe way of treating wrinkling and facial lines. Botox injections have been in use for many years now, and when applied in conjunction with dermal filler injections, the results they can achieve are truly remarkable.
Microdermabrasion: Microdermabrasion can deliver a feeling and look of refreshment and vigour that few other treatments can. By using an ultra-fine stream of particles to thoroughly exfoliate your skin, microdermabrasion can treat a range of blemishes and prevent their development by restoring health to your skin.
List of All Treatments Offered at this Clinic: Hair restoration (follicular unit extraction, non-surgical hair restoration, micro-grafting), ADA & Coffeeberry Natureceutical and TCA Chemical Skin Peels, Omnilux LED treatments, Laser hair removal, skin rejuvenation injections, IPL skin rejuvenation, medical-microdermabrasion.
Peach Practice
66 Cruise Road
Sheffield
S11 7EF
Tel: 07951 249 596
Information About This Clinic: The Peach Practice based in Sheffield provides wrinkle reduction treatments and skin rejuvenation therapies in the heart of Yorkshire. These treatments are available for anyone looking to either bring out the best in their skin or combat the effects of time, regardless of your goals you can expect a completely bespoke treatment tailored to exactly what you are looking to achieve. The Peach Practice is run by Martin Scattergood, the owner of the practice and a Consultant Aesthetic Nurse with 15 years as a senior nurse under his belt. Treatments are on offer at a number of sites in Yorkshire, and home visits can be arranged if that is more convenient for you.
Dermal Fillers: The Peach Practice offers the many benefits that the Radiesse Volumising dermal filler has to offer, which include improved tone and texture to smoother and wrinkle free skin. The Radiesse Filler has a unique mechanism of action, through which your skin is stimulated to produce more of a structural substance needed for its healthy appearance: collagen. The filler itself is made up of Hyaluronic Acid, which itself is needed for generally healthy skin. The injection is designed to reduce wrinkling, but can also enhance the appearance of your lips, cheeks, and other facial features. You can see the results of the injection as soon as the treatment is complete, which in itself can make for an extremely satisfying experience.
Types of dermal filler offered at this clinic: Radiesse.
Botox: On top of dermal filler injections, Botox treatments are available for the management of what are called 'dynamic wrinkles', which form as a result of the repeated contraction of muscles in the face as the years go by. By targeting these muscles and relaxing them, that line causing tension is effectively reduced.
Dermal Roller: Martin Scattergood of the Peach Practice is well-versed in the use of the Dermaroller to alleviate such skin conditions as acne and stretch marks. This therapy is a remarkably simple one with long lasting effects.
List of All Treatments Offered at this Clinic: Dermaroller, dermal fillers, Botox, chemical peels.
---
COSMETIC TREATMENTS
UK HEALTH CENTRES
SELECT A LOCATION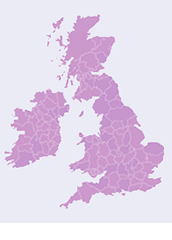 UK Health Centre