Dermal Fillers, Botox & Other Popular Skin Treatments in Solihull
If you have not had any skin treatments before and would like further information or if you would like to book an appointment/consultation in Solihull, please enter your contact details on the form on the right and we will be in touch.
Clinics in Solihull
Dentelle (Heath Dental)
32 Main Street
Dickens Heath
Solihull
West Midlands
B90 1UA
Tel: 0844 375 6349
Information About This Clinic: The Dentelle Clinic operates two sites in the West Midlands' Solihull, each of which comes under the skilled practice of Dr Clare Quinn, an experienced practitioner in the field of both cosmetic dentistry and non-surgical aesthetic facial procedures. Dr Quinn's experience began in general practice, but grew overtime into an enthusiastic interest in the field of cosmetics. Over the past 14 years Dr Quinn has made use of her knowledge and experience in the field of dental cosmetics, and more recently facial cosmetics, to deliver a personal service for anyone looking to refresh how they look and feel about themselves. The combination of both the dental and facial aspect of Dr Quinn's practice can give you a completely rejuvenated appearance, working on your smile both from within and around your mouth. Of the many facial treatments provided at Dr Quinn's practice, dermal fillers are an extremely popular choice, providing people of all ages with a quick, simple, and successful way of getting rid of everything from subtle lines to deep creases and wrinkles.
Dermal Fillers: Dermal fillers are a great cosmetic treatment because of their easy and relatively risk free application. Most dermal filler brands make use of a natural substance that occurs in your body, Hyaluronic acid, which is essential to healthy skin and is responsible for both its hydration and tone. A loss of Hyaluronic acid is part of growing older, and what a dermal filler aims to do is replace this loss to restore the youthful appearance of your face. Dr Quinn's Dentelle practice in Solihull provides these remarkable treatments, and at Dentelle you can get leading brands like Perlane, Restylane, Teosyal, and Belotero. These are all fillers with an established safety and success profile, broadly used in clinics across the UK and wider world because of their popularity. A free consultation is available in which Dr Clare Quinn's experience and personal care will provide you with a chance to discuss what you want to achieve in confidence and with no strings attached.
Types of fillers used at this clinic: Teosyal, Belotero, Restylane, Perlane.
Botox: Dentelle provides Botox injections through a practice in Solihull to great effect. This treatment is one of the most established anti-wrinkle therapies on the market, and has the advantages of being relatively inexpensive, quick, and well known in the world of non-surgical cosmetics. Wrinkles develop over time and are without a doubt one of the surest signs of aging, forming a tell-tale network of facial lines that deepen over time as the muscles of your face exercise the same movements to generate your facial expressions. Wrinkles often form at the edges of your eyes (called crow's feet), on the forehead, and on or between the brows. Their development is natural, but can be treated through Botox injections which paralyze muscles responsible for lines and give you a younger more relaxed appearance. A Botox treatment in Dr Quinn's hands will usually only take about a quarter of an hour, after which the results quickly become visible.
Dermal Roller: Dr Quinn makes use of the Derma Roller in her Solihull based Dentelle practice, a small instrument that is creating big ripples in the cosmetic world. The roller is known as a great way to effectively get rid of lines and scarring, as well as cellulite and even hair loss, all through one simple tool that, when handled by Dr Quinn, can give you an amazing change. Treatment using the Derma Roller is minimally invasive and in most cases feels like a mild tickling as the roller's carefully designed surgical needles make microscopic indentations in the deeper layers of your skin. This action stimulates the production of a collagen, a material that is present in high quantities in healthy skin, but is drastically reduced in wrinkled and scarred skin. Through this induction of natural collagen production, the Derma Roller gets your skin to clear itself up naturally and very effectively.
List of All Treatments Offered at this Clinic: Roller, anti-wrinkle treatments, cosmetic dentistry: Inman Aligner, veneers, dental makeover, dental veneers. Botox, dermal fillers.
Debora Forsythe Clinics
6 Milverton Villas
Knowle
Solihull
Solihull
West Midlands
B93 0XL
Tel: 01564 777 839
Information About This Clinic: The cosmetic industry has many reputable practitioners who have established themselves through years of hard work in the field. Deborah Forsythe is one such individual in the provision of quality care, and has founded practices in some of the busiest areas of the UK. With clinics in London's Harley Street, Birmingham, and Manchester, the Deborah Forsythe Clinics provide their treatments amongst steep competition and excels. Dr Forsythe has been in the field of aesthetics since 1990, and has since worked with leading figures in the UK's cosmetic industry. Dr Forsythe's own specialty is non-surgical facial treatments, and has been focussing on the treatment for over 20 years. While many other practitioners contend themselves with providing the best treatments available, Dr Forsythe has been pioneering tissue rejuvenation techniques and technologies like 3D facial sculpting, and is currently practicing in her field through her 3 clinics on top of teaching and training responsibilities. The Birmingham arm of the Debora Forsythe Clinics is a facility that aspires to the high standards set my Dr Forsythe, and carries on a tradition of excellence in the delivery of dermal non-surgical options.
Dermal Fillers: The Deborah Forsythe clinic is within easy reach of central Birmingham and much of the West Midlands, but remains in a peaceful and private setting in Solihull. As practitioners in the field of non-surgical dermatological options, the Deborah Forsythe Clinics provide a dermal filler option for anyone looking to benefit from the immensely successful injectable treatments that have become an essential part of the cosmetic world. Restylane is one of the original brands of dermal filler, and remains one of the most pioneering brands in the field, producing a range of successful products through which remarkable results can be achieved. Restylane can redefine your cheeks or jaw through careful injection, or alternatively can smoothen your skin and remove any lines, furrows, and wrinkles that come about with time. Restylane can yield its results as quickly as within 30 minutes of treatment, and is based on administering a substance which your body loses as it ages, Hyaluronic acid (HA). HA is injected underneath the epidermis and lifts and smoothens to take years off your face and bring out the best of your features. The types of Restylane on offer are Perlane and Lipp, the latter of which is more specifically used to restore plumpness or enhance the appearance of your lips. Sculptra is also offered, and this s a unique filler option in that rather than injecting HA, collagen production is stimulated by Sculptra, increasing the amounts of this all-important material that keeps your skin supple and smooth.
Types of dermal filler offered at this clinic: Sculptra, Restylane, Perlane, and Lipp.
Botox: The Deborah Forsythe clinic in Birmingham provides what is probably the most well-known cosmetic treatment: Botox. This injectable treatment has been a mainstay of the cosmetic world since its first cosmetic uses in 1989, and is now an indispensible part of any cosmetic arsenal against the effects of aging. Botox treatments remain very simple, and all that is involved is the injection of Botox (Botulinum toxin A) via extremely small and fine needles into the muscles of your face responsible for wrinkling and lines. Once injected, Botox begins to work on those muscles, paralysing them and hence getting rid of wrinkles at their root cause, the movement of muscles that causes your skin to furrow.
Microdermabrasion: You can find the remarkable Pristine Microdermabrasion equipment and procedure at the Deborah Forsythe Clinics, home to many of the latest and most highly demanded cosmetic options on today's market. Pristine Microdermabrasion works on many levels, firstly as a powerful method of exfoliation that removes the outermost debris ridden layers of your skin which are home to unevenness etc. The process of microdermabrasion strips away the unwanted dead cells that litter the outermost layer of our skin, leaving a smooth and pristine surface. The treatment has other effects as well, lifting the muscles of the skin through its vacuum actions and stimulating the natural production of materials that are responsible for healthy skin. Pristine Microdermabrasion is unique in that it uses extremely hypoallergenic real diamonds to achieve the treatment.
Chemical Skin Peels: Skin peels are a popular way of refreshing your skin by getting rid of a lot of the dead cells and debris that accumulate in the outer layer of your skin. At Deborah Forsythe Clinics Glycolic acid peels are used to treat wrinkling caused by overexposure to the sun, as well as acne and any resulting scarring. By encouraging the dermis and other deeper parts of your skin to grow, a skin peel restores your skin and encourages a firmer and healthier look and feel. Skin peels are known to be a safe and effective way of delivering a young and reinvigorated appearance, and are performed to exceptional standard at the Deborah Forsythe Clinics.
Treatment for Hyperhydrosis: If you are one of many people who have to put up with the inconvenience and embarrassment of hyperhidrosis (excessive underarm sweating), then the Deborah Forsythe clinics carry the solution to your predicament. While known for its amazing effects on wrinkles, Botox injections can also reduce underarm sweating to a bare minimum, allowing you to wear what you want, when you want, and go about your life without worrying about unsightly sweat stains. Botox as a treatment for hyperhidrosis will start having an effect on the volume of water you sweat within a week of the injections, and within two weeks of the injections you should be virtually sweat free!
List of All Treatments Offered at this Clinic: Botox, microdermabrasion skincare, Sculptra, treatments for hyperhidrosis, injectable muscle reactants, skin peels, dermal fillers, thread vein removal, Jan Marini Skincare.
Dentelle (Great Smiles Dental Spa)
31 Farmhouse Way
Monkspath
Solihull
West Midlands
B90 4EH
Tel: 0121 711 224
Information About This Clinic: Dr Clare Quinn, a reputed practitioner in the fields of facial and dental cosmetics, practices out of two sites located in Solihull. You are in safe hands with Dentelle and Dr Clare Quinn, whose focus is purely on making you happy with your smile and how you look. Her facial aesthetics practice compliments the cosmetic dentistry aspect, providing quality results that complete every aspect of your smile. Dermal fillers can enhance your lips and lift up the corners of your mouth, while fresh veneers or teeth whitening can bring your smile to its brightest. A completely free appointment is the first step towards securing the smile you want.
Dermal Fillers: Solihull's location makes it perfectly accessible from much of the West Midlands, a short drive from nearby Birmingham and yet far enough away to take you away from the chaos of the central city for your treatment. If you are looking into dermal fillers then you have undoubtedly heard about their remarkable ability to restore youthfulness and enhance those features that bring out the best in your face. At Dentelle Dr Clare Quinn's personal care will see you through a top of the line dermal filler treatment that meets your needs and wants. Dr Quinn makes use of Restylane, Belotero, Perlane, and Teosyal fillers, all of which are prominent brands that are used widely to great effect. Whatever it is you want to achieve through your dermal filler, be it an enhancement of your cheeks and lips or a smoothening of facial lines, Dr Quinn will be able to provide the filler for you, achieving your ends safely, effectively, and comfortably.
Types of fillers used at this clinic: Restylane, Belotero, Perlane, and Teosyal.
Botox: The widespread renown and popularity of Botox injections speaks volume about how great the therapy can be at achieving a smooth and wrinkle free visage. A Botox injection is amazingly quick considering the remarkable effects it can have, and at Dr Quinn's Dentelle practice based in Solihull the treatment will seldom take more than 15 minutes. During the session you will receive a series of injections by way of extremely fine needles around any facial wrinkling. Your initial consultation with Dr Quinn will allow for her experience to develop a treatment plan that focuses on resolving your wrinkles as effectively as possible. Results will be easy to see within a short period of time after treatment, and while you will be advised to rest after the procedure, the recovery time for Botox injections is extremely short and you will be back on your feet in no time.
Dermal Roller: Derma Rollers are designed to be easy to use both at home and in the hands of an experienced practitioner. Should you choose to go to Dentelle for your Derma Roller treatment you will be making the most of this truly remarkable treatment option, as Dr Quinn's experience and skill will help you achieve your aesthetic aims quickly and safely. The Derma Roller works on the basis of a method called micro-needling, where 192 specially designed and extremely fine needles are applied to your skin through a simple roller. These needle basically prick the dermis layer of your skin, which then products plenty of collagen to repair itself. Collagen is the substance which then firms up your skin, alleviating it of any wrinkling or scarring in a healthy and perfectly natural mechanism of action.
List of All Treatments Offered at this Clinic: Botox, dermal fillers, Derma Roller, cosmetic dentistry: Inman Aligner, dental veneers, dental makeover, and anti-wrinkle treatments.
Lily Skin (Love Thy Nails)
1578 High Street
Solihull
West Midlands
B93 0LF
Tel: 01564 777900
Information About This Clinic: Lily Skin provides some of the most popular non-surgical options on the market today out of a number of different convenient sites in the West Midlands, aiming to bring their services to you rather than the other way around. Home to a range of products including the ever popular Botox and dermal filler options, Lily Skin can meet your skincare needs. The Love Thy Nails site might seem an unlikely one at first, but Lily Skin regularly hold clinics there to make their treatments as accessible as any high street beauty therapy. You can expect a treatment plan that is completely based on you and your skin, and what would suit it best. Lily Skin take a 12 month approach to rejuvenating your skin, using this time to give you the best results that modern cosmetic care can give you, and a completely free and no strings attached consultation can give you all you need to know about Lily Skin and the services they provide.
Dermal Fillers: Lily Skin run regular clinics across the West Midlands, including the amenable and friendly Love Thy Nails salon in Knowle. Dermal fillers are one of Lily Skin's key offerings, and some of the leading names in the field are provided for your benefit. Dermal fillers are an injectable treatment that literally fill out lines, wrinkles, and folds in your skin that develop as you grow older. These fillers are both safe and effective, giving you a great chance to restore a naturally pristine look and feel to your skin.
Types of dermal filler offered at this clinic: Juvederm ULTRA (2, 3, and 4), Renstylane, Teosyl.
Botox: Lily Skin provide Botulinum toxin A injections through Botox, Dysport, and other leading brands out of their Love Thy Nails location in Knowle. This form of treatment is amongst the most well known in the aesthetic treatment world because of its history and reputation for getting rid of the unwelcome signs of aging that might be compromising your confidence.
List of All Treatments Offered at this Clinic: Dermal fillers (Restylane, Juvederm, Teosyl), Lip enhancement, Botulinum toxin A (Xeomen, Dysport, Azzalure, Botox, Vistabel).
Skin Etc Medical Aesthetics Clinic
MK Lifefit Clinic
Monkspath Leisure Park
Highlands Road
Solihull
West Midlands
B90 4NU
Tel: 0844 815 855
Information About This Clinic: Skin Etc clinics now cover a large part of the midlands, and the most recent of the additions to the regional network has been the Skin Etc Solihull clinic in Birmingham. Skin Etc first begain in 2004 and continue to provide quality skincare treatments without the hassle and cost of surgery. Skin Etc in Solihull offer cosmetic options for men and women alike, and can help you achieve and restore a natural, younger, and fresher look and feel. Skin Etc is the operated by Dr Dan Dhunna, whose experience in the field and artistic flair have fuelled the growth of Skin Etc into the regional network of clinics it is today. You can expect a bespoke service from Dr Dhunna which responds to what it is you hope to achieve through a cosmetic treatment. With so many treatments available on the market today it's easy to get confused or to opt for one that might not actually be the best option for you. Dr Dan Dhunna's advice and guidance will soon have you pursuing the right option for you and your skin.
Dermal Fillers: Many different dermal fillers are now available, giving you more choice than ever before when it comes to picking the right tool for your skincare job. Dr Dan Dhunna of Skin Etc in Solihull makes use of a tried and tested brand of dermal fillers that achieve a natural and organic look after treatment, Juvederm. Juvederm is actually made by the same company as Botox, Allergan, and so has a long tradition of providing excellent injectable therapies. Juvederm products can help you achieve and exceed your goals, restoring youthfulness to your appearance and enhancing your facial assets to greater effect. With results lasting up to 18 months, Skin Etc in Solihull is a great location for dermal filler treatments. Sculptra is also offered by Dr Dhunna, and is one of the major brands of dermal filler.
Types of dermal filler offered at this clinic: Juvaderm (Ultra, Voluma, Hydrate), Sculptra.
Botox: Botox is very much the classic injectable treatment, and is known throughout the world as an anti-wrinkle treatment that effectively smoothens your appearance to great effect. Skin Etc in Solihull provide Botox injections as part of their many services, and in the skilled hands of Dr Dan Dhunna you can expect artistic and natural looking results.
Chemical Skin Peels: Skin Etc provide the option of skin peels out of its Solihull location. A skin peel is a quick Treatment that strips away dead skin and blemishes from the outer layer of your skin to leave you looking refreshed and invigorated. At Skin Etc Agera Rx Skin Peels are used over about 4-6 sessions to remove more persistant conditions like severe acne or acne scarring. Fortunately this type of skin peel is very effective and suitable for all skin types, with the added advantages of not causing any irritation or skin shedding like many other peel treatments do.
Dermal Roller: Skin Etc in Solihull can offer you the chance to get rid of wrinkling and acne scars through the astounding effects of Derma Roller. The roller can relieve you of these often blemishes, and give you newly recharged skin that is healthier and younger thanks to the micro-needling effect of the Derma Roller. The Derma Roller can also be used to treat cellulite and hair loss, and can be used very effectively in conjunction with other treatments offered at Skin Etc like skin peels and microdermabrasion.
Treatment for Hyperhydrosis: If you find yourself sweating far more than your peers and seeminly invulnerable to the effects of anti-perspirants, then Skin Etc can offer you the chance to treat hyperhidrosis effectively and with great results. The treatment involves the strategic injection of Botulinum toxin A, more popularly known by its manufacturer Botox, to stop your pores from their excessive action.
List of All Treatments Offered at this Clinic: Sculptra, dermal fillers, skin peels, hyperhidrosis treatment, hand and neck rejuvenation, decolletage rejuvenation, Botox, and Derma Roller.
Sk:n Clinics (Solihull)
NHS Community Outpatient Clinic
Located in Boots
7 Mell Square
Solihull
West Midlands
B91 3BG
Tel: 0800 028 7222
Information About This Clinic: In order to ensure ample coverage of the Midlands, Sk:n clinics offer services out of a convenient high street location in Solihull. This facility comes under the medical directorship of the internationally recognised consultant dermatologist Dr Sean Lanigan, who also acts as medical director for two other Sk:n clinics in Birmingham. The Solihull arm of Sk:n carries on a tradition of service spanning 20 years, during which over 500,000 clients have sought Sk:n treatments at a staggering 37 facilities nationwide. High standards are ensured by Sk:n's close relationship with regulatory government bodies in the field of cosmetics, and a similarly close affiliation with the best suppliers of skin treatments also secures the high qualities of all the services offered at Sk:n.
Dermal Fillers: Sk:n Solihull supplies the state of the art Juvederm fillers which so many leading cosmetic services in the country swear by. Alongside some other big names in the industry, Juverderm is one of the largest names in the world of dermal fillers, and their standing is well earned by superb products. These fillers are simple injectable solutions to wrinkles and folds, and can be a great way to highlight or enhance parts of your face likr your lips, chins, and cheeks.
Types of dermal filler offered at this clinic: Juverderm.
Botox: Since its development as a solution to facial wrinkles, Botox has become almost synonymous with cosmetic care, providing countless people across the world with a quick and simple remedy to the effects of age on our skin. Sk:n Solihull continues the tradition of Botox solutions by providing the service as a means to a younger and fresher face.
Chemical Skin Peels: Few cosmetic treatments can boast the simple and refreshing qualities of a skin peel. This treatment varies in strength, and at Sk:n Solihull your particular skin type will be paired up with the best skin peel for you. The peel safely provides deep exfoliation that leaves your skin in wonderfully pristine condition.
List of All Treatments Offered at this Clinic: Botox, Juvederm, laser hair removal, and microdermabrasion.
Solihull Medical Cosmetic Centre
20 Chelmsley Lane
Marston Green
Solihull
West Midlands
B37 7BG
Tel: 0845 603 6150
Information About This Clinic: The Solihull Medical Cosmetic Centre is a doctor led service that provides a wide range of both non-surgical and surgical options to suit anyone looking to change something about themselves. Anti-aging treatments are used to great effect to provide you with natural looking relief from the toll the years can take on your skin. The practice is that of Dr Sagoo whose experience is in the fields of both cosmetics and general practice. You can be confident in that Dr Sagoo will be responsible for seeing you and will be involved in your treatment, so every part of your experience at The Solihull Medical Cosmetic Centre will be under the watchful eye of an experienced doctor with the knowledge that makes for great results. The centre can now boast over 4,000 patients, many of whose testimonials can be found online. You can expect a completely free initial appointment during which you can acquaint yourself with the treatments you are interested in, Dr Sagoo and the rest of the team, and the centre itself which retains a friendly and comforting feel.
Dermal Fillers: Dr Sagoo's Solihull Medical Cosmetics practice makes use of Restylane dermal fillers for a number of skin rejuvenation therapies. Restylane is the foremost brand in the area of dermal fillers, and its products involve the injection of Hyaluronic acid, a naturally occurring chemical that is responsible for normal skin volume. As we grow older we produce less of this valuable and important substance, and as such we lose volume in our skin which results in wrinkling. A Restylane injection counteracts the loss of Hyaluronic acid, replenishing your supplies to fill out your skin and give it a naturally younger look. The Solihull Medical Cosmetics Clinic also offers Radiesse as a method of using an injectable treatment to reshape parts of the face, enhancing, for instance your lips or cheekbones, as well as Sculptra, a filler also known as the liquid face lift because of its usefulness as a non-surgical equivalent of a facelift.
Types of fillers offered at this clinic: Restylane and Sculptra.
Botox: Botox is the weapon of choice for many treatment centres to combat deep forehead lines, crow's feet, and wrinkles. The Solihull Medical Cosmetic Clinic makes full use of the amazing efffects of this injectable treatment, giving you the chance to get rid of the unwanted effects of getting older.
Chemical Skin Peels: Skin peels are available in many shapes and sizes, and some will suit your skin more than others. At the Solihull Medical Cosmetic Clinic, Glycolic and TCA peels are provided to meet the needs of different skin types. Glycolic peels are a great way to strip off dead cells and dirt off the surface of your skin, and can be a great acne treatment that clears up your skin within a few sessions. TCA peels, also known as Trichloroacetic Acid peels, is a deeper method of cleansing that strips off several layers of skin to give a profoundly deeper clean.
List of All Treatments Offered at this Clinic: FRX Fractional CO2, skin lesion treatment, combination treatments, laser hair removal, rejuvalight, acne and rosacea treatments, skin lift, dermal fillers, hyper pigmentation, liquid face lift, cellulite injections, fat reducing injections, glycolic and TCA peels, 3D laser rejuvenation, pearl laser treatments, hyper pigmentation, surgical face lift, neck lift, liposuction, thigh and arm lift, tummy tuck, rhinoplasty, surgical eye bag treatment, ear surgery, breast augmentation.
Blossomfield Complete Dental Care
28/286 Blossomfield Road
Solihull
West Midlands
B91 1TH
Tel: 0121 711 6939
Information About This Clinic: Blossomfield Complete Dental Care is home to an excellent team of dental and facial aesthetics practitioners that work within a friendly and relaxing setting to deliver a quality service. The practice is held within Blossomfield House, a modern facility completely purpose built for a warm and inviting atmosphere in which to recieve cutting edge dental treatments. The facility was one of those nominated for the Best New Practice award in 2007, and retains the high standards which earned it such recognition.
Dermal Fillers: Blossomfield Dental can provide dermal filler injections as a solution to the effects of time and age on our skin. These injections are full of Hyaluronic acid, a substance that keeps our skin smooth and plump. Hyaluronic acid is actually a natural compound that diminishes in quantity as we get older, and replenishing its stocks with a dermal filler is a great way of getting your skin back to its former glory.
Types of dermal filler offered at this clinic: Hydrafil.
Botox: Wrinkles are no longer a nuisance of old age that we have to put up with in the long term thanks to the effects of Botox injections. Botox is one of Blossomfield's great facial aesthetics treatments, and is conveniently accessed for much of Birmingham and the West Midlands from its Solihull location.
List of All Treatments Offered at this Clinic: Injectable dermal fillers and muscle relaxants, dental exam, x-rays, dental hygiene, tooth whitening, veneers, white fillings, composite bonding, bridges, cerecs, endodontics, dentures, inlays, crowns, placement of dental implants.
Knowle Smile Spa
4 Wilsons Road
Knowle
Solihull
West Midlands
B93 0HZ
Tel: 01564 772184
Information About This Clinic: The Smile Spa based in Knowle is committed to using tried and tested cosmetic treatments and traditional methods of achieving your aesthetic ends. The Smile Spa retains an approach based around delivering a caring treatment based on you as a unique individual, a number of stress reducing methods and tools are employed to make your experience as relaxed as possible, and these include aromatherapy and music for example. Staff at the centre are involved in continuous education and development, ensuring that your treatment will be in capable hands.
Dermal Fillers: The Smile Spa at Knowle amplifies your smile from all directions, using the best in facial aesthetic treatments to help enhance your smile and confidence. Dermal fillers, more specifically the Juvederm injectable gel, are used to great effect to either enhance your lips or treat facial wrinkles to make your smile brighter and younger than ever.
Types of dermal filler offered at this clinic: Juvederm.
Botox: Knowle's Smile Spa provides what is probably the most well known of all injectable therapies, Botox. A quick injectable treatment that restores smoothness and youth to your face, Botox is in many ways the quintissential anti-wrinkle therapy.
List of All Treatments Offered at this Clinic: Juvederm, Botox, teeth whitening, white fillings, invisible braces, and porcelain veneers.
Spire Parkway Hospital
1 Damson Parkway
Solihull
West Midlands
B91 2PP
Tel: 0845 850 1451
Information About This Clinic: Spire Parkway Hospital is one of many facilities under the nationally recognised banner of Spire Healthcare, one of the foremost providers of private healthcare options in the UK. The Parkway facility offers a range of different departments that range from orthopaedics through to physiotherapy and cosmetics. The hospital has fully equipped operating and procedure rooms, as well as a suite of comfortable consulting and patient rooms. Spire employs NHS consultants with experience and specialisation in their particular fields, and these capable individuals are backed by a team of healthcare professionals from different backgrounds and experience.
Dermal Fillers: Spire Parkway Hospital is located in Solihull, a location easy to get to from both central Birmingham and its surrounding towns, and yet still removed enough to offer peace and privacy during treatments. Dermal fillers are one of two non-surgical cosmetic treatments offered at the site, and can treat wrinkles and enhance lips by means of a quick injection of Hyaluronic acid, a substance naturally produced by your body to maintain full and well hydrated skin.
Types of dermal filler offered at this clinic: Juvederm
Botox: Spire Parkway Hospital offers Botox injections as an anti-wrinkle treatment. This is a tried and tested method of getting rid of unwanted facial lines, and is often used to get rid of lines by the eyes and mouth, and around the forehead.
List of All Treatments Offered at this Clinic: Dermal fillers, Botox, Cosmetic surgeries.
Eternal Smiles Dental Centre
18 Station Road
Solihull
West Midlands
B91 3SB
Tel: 0121 705 0994
Information About This Clinic: Solihull based Eternal Smiles perform high level dental and facial aesthetic work from an accessible and convenient location. Both standard and cosmetic dentistry procedures are performed to high standards, as are facial aesthetic treatments that aim to restore your confidence as well as your skin. Provisions are made for patients who are less than comfortable with dentistry, and the calm and friendly atmosphere of the clinic is there to create an instant feeling of ease and relaxation. The practice itself is that of Dr Singh, a practitioner with a background in general practice as well as aesthetic dentistry and facial work. Dr Singh's broad medical experience and knowledge are brought to bear on treatments, meaning that you have the benefit of knowing that you are in safe and skilled hands.
Dermal Fillers: The purpose of dermal fillers is to add volume to your skin, and through this fill out the creases and lines that form with age. It's only natural for our skin to show signs of time passing us by, but with dermal fillers the consequences of age are not by any means something you have to put up with. Solihull's Eternal Smiles location can offer you dermal filler treatments to restore youth to your skin in a safe, tried, and tested manner that will yield great results.
Types of dermal fillers offered at this clinic: (Not listed).
Botox: Wrinkle reduction and Botox often walk hand in hand, with many Botox injections performed around the world at any one time to help people get rid of unwanted wrinkles and lines. These features, while natural, are often a nuisance, and at Eternal Smiles a quick injectable treatment is all it takes to get rid of them.
List of All Treatments Offered at this Clinic: Botox, porcelain veneers, whie fillings, dermal fillers, dental implants, teeth whitening, crowns and bridges, oral hygiene and gum disease, root canals, mouth guards, and TMJ disorder.
Skin Deep Rejuvenation Therapies
95 High Street
Solihull
West Midlands
B91 3SW
Tel: 0121 711 7038
Information About This Clinic: The Skin Deep clinic aims to deliver a truly enjoyable experience that rejuvenates you in every sense of the word. The clinic's environment and staff are warm and welcoming, making the whole treatment process so much easier. The clinic's team offers a comprehensive range of skincare treatments as well as a number of beauty treatments that often work hand in hand to give you the best results in the safest and most effective way possible.
Dermal Fillers: One of Skin Deep's main offerings are injectable dermal filler treatments. For the entirety of your life your skin will be subject to pressure from the environment both outside and within your body, and all of these factors eventually take their toll resulting in facial lines and skin that loses the lustre and texture of youth. Dermal fillers as used by Skin Deep in Solihull are a great way to get your skin back into shape, and achieve results within a short space of time.
Types of dermal filler offered at this clinic: Teosyal and Hydrafill.
Botox: Wrinkling maybe a part of aging, but that doesn't mean that any of us have to like it. Fortunately Skin Deep can provide an answer to such skin issues through Botox. All it takes is a strategically placed injection of Botox, and your face will be restored to a smooth and line free appearance.
Microdermabrasion: Medical Microdermabrasion is performed at Skin Deep and has many advantages as a skin treatment, including being a non-invasive and almost painless treatment that doesn't involve harsh chemicals or a prolonged waiting time, and gives you instant results. A wand is used to deliver a stream of safe aluminium oxide crystals to basically deep clean the skin of your face in under 30 minutes.
Chemical Skin Peels: Skin Deep peels are designed to help your skin shuck the bits and pieces of debris that clutter our skin, leaving It looking less than pristine if untreated. Peels are actually available in a number of different forms, each of which provides a different depth of exfoliation, and you can expect the staff at Skin Deep to give you the advice you need to make the right choice of treatment for your skin and your goals.
Dermal Roller: The Derma Roller has been making a big impression on the skincare community because of its great successes, range of uses, and simplicity. The roller is fitted with very fine needles which perforate the deeper layer of your skin called the dermis. As your dermis repairs itself, it also produces lots of collagen which helps to restore your skin, clearing up acne, wrinkles, scars, and cellulite over a few weeks.
Treatment for Hyperhydrosis: Many people in the UK put up with the discomfort and embarrassment of having overly active sweat glands, an ailment which can become so much worse over the summer and on holidays. At Skin Deep Rejuvenation you can find yourself in capable hands which can solve the problem of excessive sweating for you, clearing up the issue within a couple of weeks of treatments.
List of All Treatments Offered at this Clinic: Derma Roller, hyperhidrosis, microdermabrasion, Omnilux light therapy, chemical peels, veinwave, ear piercing, acne treatment, wrinkle relaxing, dermal fillers.
---
COSMETIC TREATMENTS
UK HEALTH CENTRES
SELECT A LOCATION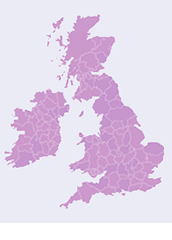 UK Health Centre