Dermal Fillers, Botox & Other Popular Skin Treatments in Stoke-on-Trent
If you have not had any skin treatments before and would like further information or if you would like to book an appointment/consultation in Stoke-on-Trent, please enter your contact details on the form on the right and we will be in touch.
Clinics in Stoke-on-Trent
Harley Skin and Laser Clinic
Hollywall Lane
Stoke-on-Trent
Staffordshire
ST6 4QB
Tel: 01782 817 957
Information About This Clinic: Based in Stoke-On-Trent, the Harley Skin & Laser Clinic is a Which Laser Clinic approved facility, one of only two in Staffordshire that can make such a boast. Which Laser Clinic is an independent reviewing community aiming to inform potential customers and clients about the quality of the various laser cosmetic providers available. Which Laser Clinic carries out preventative safety checks to ensure the safety of laser equipment in facilities across the UK, and only 40 facilities, of which the Harley Skin & Laser Clinic is one, can boast having earned 'registered' status. This backing evidences the high quality and standards to which Harley Skin & Laser Clinics aspire, making it one of the best clinics to go to for laser and skin treatments in the Stoke-On-Trent area.
Dermal Fillers: Of the many anti-wrinkle treatments available these days, few can boast the effectiveness of dermal fillers, a straightforward injectable therapy which restores volume and youth to wrinkled and lined skin instantly. At the Harley Skin & Laser Clinic three leading brands of dermal filler are on offer, Restylane, Sculptra, and Juvederm, and what these products share is a globally recognized reputation for effectiveness and safety. Dermal fillers give you instantly visible results that will last for months after treatment.
Dermal fillers offered at this clinic: Restylane, Juvederm, Sculptra.
Botox: Botox injections are a staple provision at quality facial aesthetics providers like Harley Skin & Laser because of the demand for this classic treatment which yields smooth and wrinkle free skin in virtually no time at all.
Chemical Skin Peels: Chemical peels are one of a diverse range of products and treatments at Harley Skin & Laser.
Treatment for Hyperhydrosis: Botox injections are a well known anti-wrinkle agent, however this treatment is also widely used to prevent excessive sweating, and has been shown to be longer lasting and more effective than many alternative over the counter anti-perspirant.
List of All Treatments Offered at this Clinic: Botox, Dermal Fillers, Laser Treatments (Birthmark removal, IPL hair removal, acne, Campbell de Morgan Spots, Rosacea Treatment, Leg Vein Removal, Skin Rejuvenation, Hair Removal).
Wellbeing & Health
513 Erturia Road
Stoke-on-Trent
Staffordshire
ST4 6HT
Tel: 01782 619 280
Information About This Clinic: Wellbeing & Health is a Which Laser Clinic accredited laser and facial aesthetics clinic, offering such popular treatments as laser hair removal, microdermabrasion, and dermal fillers. Wellbeing & Health offers you safe treatments about which you will be informed in detail prior to your treatment, making sure that you know everything you need to about a therapy so that you can make the right decision for you. Wellbeing & Health offer consistently high quality treatments at the hands of registered nurses and staff qualified and experienced in the treatments on offer.
Dermal Fillers: The tone and appearance of younger skin can largely be attributed to the presence of a certain amount of hyaluronic acid and collagen, two vital structural substances that keep skin supple and youthful. Dermal fillers aim to replenish the loss of hyaluronic acid that comes with age, and through that restore the volume and tone skin loses.
Dermal fillers offered at this clinic: (Not listed).
Microdermabrasion: Wellbeing & Health can offer you microdermabrasion treatments for the refreshment and rejuvenation of your skin. Microdermabrasion has been shown to successfully cleanse skin and reduce surface blemishes.
,
Advanced Dental Clinic
25/27 Moorland Road
Burslem
Stoke-on-Trent
Staffordshire
ST6 1DS
Tel: 01782 817611
Information About This Clinic: The Advanced Dental Clinic in Stoke-On-Trent is a practice offering affordable dental treatments, both general and cosmetic, as well as a number of facial aesthetic treatments which are extremely popular. The Advanced Dental Clinic prides itself on a friendly and approachable attitude which makes for a better all round experience and service. Confidential consultations are available to give you a chance to talk about what you want to achieve with an experienced professional. New patients are always welcome, including people who are a bit nervous about visiting the dentist or haven't been to one in some time.
Dermal Fillers: Stoke's Advanced Dental Clinic provides dermal filler injections alongside its selection of dental treatments. These fillers are based on the application of hyaluronic acid to lined and aging skin to restore lost volume and effectively 'fill out' wrinkles in a healthy manner.
Dermal fillers offered at this clinic: (Not listed).
Treatments offered by this clinic: Dental Implants, Crowns and Bridges, tooth whitening, orthodontics (tooth straightening), implant support dentures, bridges, crowns, and veneers, minor facial cosmetic procedures.
---
COSMETIC TREATMENTS
UK HEALTH CENTRES
SELECT A LOCATION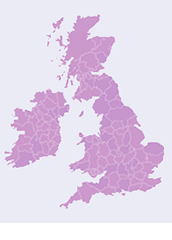 UK Health Centre