Fertility Clinics in Cardiff
If you are considering fertility treatment because you have struggled to conceive or you or your partner are infertile, or if you are a same sex couple wanting to have a baby, there are a number of options available through the NHS and/or through private funding at fertility clinics in Cardiff.
If you would like to book a consultation (many clinics offer free initial consultations) to discuss your ferility treatment options at a clinic in Cardiff, contact the clinic direct. Treatment options include:
Gamete Intra-Fallopian Transfer (GIFT)
In vitro maturation (IVM)
Surrogacy
Surgery
Please also contact us if you would like further information about egg donation/edd donors or sperm donation/sperm donors.
Fertility Clinics Cardiff
Cyncoed Medical Centre
Darlington Drive
Pontprennau
Cardiff
Wales
CF23 8SQ
Tel: 02920 734 008
Cardiff is easily the most well-known Welsh city, and with good reason. A large city with a suitably large population, Cardiff is home to a number of different popular tourist sites, reputable sports teams, Welsh companies, and countless other services and amenities that have put it on the economic and social map both in and out of Wales. It is no surprise then that a centre of reproductive medicine as well-known as the London Women's Clinic would choose to open and operate a centre within Cardiff to service communities in the South of Wales and Southwest of England. The Cardiff clinic specialises in the provision of insemination treatments, a successful and cost efficient fertility treatment which is superb in its simplicity and effectiveness. As sperm and egg donors are recruited at the centre, couples have the option of using donor materials for a technique called donor insemination. This involves the use of donor sperm (in most cases) where male sperm are unavailable or where, for example, a male partner suffers from an inherited illness that the couple don't want to pass down to their child. The ins and outs of donor insemination, as well as its legal implications, will be discussed in depth prior to any treatment, and counselling and support groups are available to help you make that decision to the best of your ability. Intrauterine insemination (IUI) is the main method by which couples are made pregnant at the Cardiff clinic, and this technique has been proven to be the most effective method of artificial insemination. It can be performed with or without the use of fertility drugs designed to stimulate female ovulation and the release of eggs, which has the advantage of increasing the chances of a successful fertilisation, but the disadvantage of carrying with it the risk of side effects like ovarian hyperstimulation syndrome. IUI would basically involve a sperm sample being taken from a male partner and placed into the uterus, more commonly known as the womb, where said sperm will migrate to and fertilise the eggs present. IUI is a solution to many fertility issues be they unknown or If, for example, a male partner suffers from erectile dysfunction or impotence.
Spire Cardiff Hospital
Croescadarn Road
Pentwyn
Cardiff
UK
CF23 8XL
Tel: 029 2073 5515

University Hospital of Wales
Heath Park
Cardiff
Wales
CF14 4XW
Tel: 02920 743 047
Cardiff is, in many ways, the beating heart of Wales, acting as not a commercial and cultural centre, but a popular tourist destination, administrative city, and capital city. On top of all this Cardiff also possesses a mixture of modernity and a rustic charm and aesthetic which make it such a popular destination for tourists across the country and from abroad. IVF Wales has quite a large population to tend to as the areas around Cardiff are quite populous as well, and as such can offer a broad range of treatment and investigate options to meet the needs of a diverse population and a number of communities. IVF is one of the key offerings at the centre, and is in fact offered with a surrogacy programme for same sex couples and couples in need of a surrogacy option. IVF is a great solution for women with damaged or blocked fallopian tubes, unexplained fertility problems, endometriosis (where the lining of the uterus called the endometrium grows into areas where it doesn't belong like the fallopian tubes), and problems with ovulations. ICSI (intra-cytoplasmic sperm injection) is also offered with IVF, where the IVF protocol is altered in that sperm is directly injected into an egg cell a great option where male factor infertility is the problem. More specifically where sperm are either of poor quality, poor motility, or low in number, and need help in fertilising an egg. Surgical procedures are available to remove sperm from testicles where no sperm is found in after ejaculation.
---
FERTILITY INFORMATION
UK HEALTH CENTRES
SELECT A LOCATION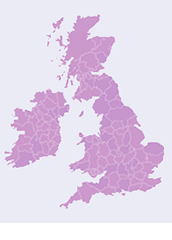 UK Health Centre