Fertility Clinics in Chester
If you are considering fertility treatment because you have struggled to conceive or you or your partner are infertile, or if you are a same sex couple wanting to have a baby, there are a number of options available through the NHS and/or through private funding at fertility clinics in Chester.
If you would like to book a consultation (many clinics offer free initial consultations) to discuss your ferility treatment options at a clinic in Chester, contact the clinic direct. Treatment options include:
Gamete Intra-Fallopian Transfer (GIFT)
In vitro maturation (IVM)
Surrogacy
Surgery
Please also contact us if you would like further information about egg donation/edd donors or sperm donation/sperm donors.
Fertility Clinics Chester
Transport Centre for Hewitt Centre for Reproductive Medicine
The Countess of Chester Hospital
Health park, Liverpool Road
Chester
Cheshire
UK
CH2 1UL
Tel: 01244 365 000

Fertility Unit
Liverpool Road
Chester
UK
CH2 1UL
Tel: 01244 3666679
With so many different buzzwords and technical terms buzzing around the world of infertility, it can become quite difficult to discern what they all mean and which ones are relevant to you. At the Countess you can expect a clear and simple service where jargon is put aside to determine the best course of treatment for you during your stay. The Countess offers an insemination treatment for couples struggling with their fertility, providing them with one of the most popular, cost effective, and widely used forms of assisted reproduction. The principle of the technique is a relatively simple one, and essentially sperm, either from a male partner or from a donor, will be taken and treated for artificial placement within the female reproductive anatomy. Where it is placed actually depends on the technique itself as there are very many different forms of artificial insemination. Through intra-cervical insemination sperm are in fact placed within the cervix, while intrauterine insemination will see semen placed within the womb, also known as the uterus. Each procedure has its own advantages and disadvantages, and which method is suitable for you will come down to the discussions you have with your doctor. Insemination is also often used by same sex couples and single women looking to get pregnant in the absence of a male partner. The facility also offers an egg storage facility and treatment options for patients suffering from hepatitis, HIV, and communicable viral diseases. The Countess of Chester Hospital has recently been inspected and its license was renewed in March of 2011.
---
FERTILITY INFORMATION
UK HEALTH CENTRES
SELECT A LOCATION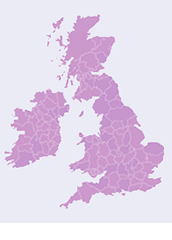 UK Health Centre