BMI The Chaucer Hospital
There are various types of fertility treatments and the contact telephone number and address for BMI The Chaucer Hospital, can be found below.
If you would like to find out if you are suitable for fertility treatment or information about a particular procedure or treatment, contact a local clinic.
BMI The Chaucer Hospital
BMI The Chaucer Hospital
The Brabourne Suite
Nackington Road
Canterbury
Kent
UK
CT4 7AR
Tel: 01227 825 125
Clinic details: The Chaucer Hospital can be found in a location both idyllic and convenient in Canterbury. Of the many services offered out of the hospital's HFEA licensed assisted reproduction unit. IVF and ICSI, also referred to as in vitro fertilisation and intra-cyoplasmic sperm injection respectively, are both superb procedures offered by the modern Chaucer Hospital. Both procedures are also offered with donor eggs should they become necessary, and have been performed with success rates consistent with the HFEA's national averages for both under 35s and patients between 35 and 37. Sperm retrieval procedures are provided by the treatment centre alongside sperm assessment as part of the hospital's male infertility treatment offering, and ovulation monitoring and induction is provided to assess and if necessary improve monthly ovulation for women suffering from infertility. Insemination is often a first port of call in the world of fertility treatment, and this procedure is offered at its best in the form of IUI (intrauterine insemination) and alongside the provision of donor insemination if your partner's sperm is unsuitable, you have no partner, or you are part of a same sex couple.
Fertility treatment at this clinic: BMI Healthcare's Chaucer Hospital is a top of the range private healthcare facility carrying 55 private patient beds replete with modern conveniences and creature comforts. Private and personal patient care is what BMI aims to deliver, and you can certainly expect that should you choose to seek treatment at BMI The Chaucer Hospital. With three dedicated operating rooms and 11 consultation rooms on top of its fully HFEA accredited assisted conception department, you can take your fertility worries to The Chaucer Hospital and feel confident that whatever answers are available will be forthcoming. Resident medical officers and nursing staff are available around the clock to support you during treatment, and the overall environment aims to be friendly and professional. You can expect the very best in terms of the facilities and staff available, and if you are interested in pursuing a fertility treatment or make a few inquiries, a simple phone call will allow the hospital's staff to arrange a purely informal discussion on what you can be offered and what your particular situation is.
Services offered at this clinic: NHS and private patients treated, PESA, TESA, and MESA, sperm assessment, induction of ovulation, translator services, ovulation monitoring, counselling services, sperm storage and embryo storage, IVF and ICSI (with donor eggs as well), blastocyst transfer, unstimulated IUI, stimulated IUI, artificial insemination, donor insemination
---
FERTILITY INFORMATION
UK HEALTH CENTRES
SELECT A LOCATION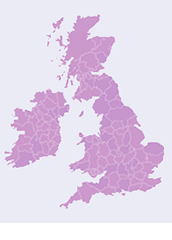 UK Health Centre