Burton Hospitals NHS Trust - Burton Centre for Reproductive Medicine
There are various types of fertility treatments and the contact telephone number and address for Burton Hospitals NHS Trust - Burton Centre for Reproductive Medicine, can be found below.
If you would like to find out if you are suitable for fertility treatment or information about a particular procedure or treatment, contact a local clinic.
Burton Hospitals NHS Trust - Burton Centre for Reproductive Medicine
Burton Hospitals NHS Trust - Burton Centre for Reproductive Medicine
Outwoods House, Queen's Hospital
Belvedere Road
Burton Upon Trent
Staffordshire
UK
DE13 0RB
Tel: 01283 593 098
Clinic details: Burton Upon Trent is a rural area in East Staffordshire, conveniently located within 30 miles of Birmingham and Derby and yet, despite being relatively near large cities, remains a picturesque and peaceful area which can be a relaxing area in which to undergo a treatment. Burton also happens to be surrounded by Nottinghamshire's world famous forests and the peak district, and is near Alton Towers and the race courses of Uttoxeter. The BCRP provides a number of fertility services out of its site, and examples include cryopreservation, a method of storing sperm and embryos for future fertility treatments and to keep donor sperm for treatments at a later date. Ultrasound scanning is a technique used on the site to monitor female cycles, either for diagnostic purposes or to observe the effects of fertility drugs that aim to stimulate egg production (ovulation). Intrauterine insemination is on offer both naturally and under the influence of drug treatments to help couples whom artificial insemination can benefit. Many women suffer from fertility difficulties because of defects or damage to their fallopian tubes, a structure linking the womb to the eggs. The BCRP offers fallopian patency testing that determines how well fallopian tubes function. The facility also offers you the opportunity to make use of donor materials where necessary, and many couples who suffer from hereditary illnesses choose to opt for donor sperm for example to avoid passing on certain illnesses to their children. IVF and ICSI, two revolutionary methods of assisted reproduction are both provided by the BCRP, as is the surgical retrieval of sperm cells. Infertility can be extremely emotionally difficult, and even its treatment can be trying for a couple as it can take some time. The BCRP is sensitive to this and offers a comprehensive counselling service for its patients to make use of.
Fertility treatment at this clinic: Burton Hospitals NHS Foundation Trust operates through a number of sites across Burton On Trent. Each site is designed to accommodate and provide a specific set of specialist services, and it is The Queen's Hospital site which is home to the Burton Centre for Reproductive Medicine, a site replete with all the facilities and materials needed to provide cutting edge fertility treatments to its patients. The Burton Hospitals NHS Foundation Trust dates back to 1993 and was initially established as an acute hospital with 420 beds, dedicated imaging technologies MRI and CT scanners, stroke facilities, and many other services. The trust's fertility services are in fact offered from its Outwoods site which has its own 13 beds and is within easy access of the rest of the trust's sites and equipment. The Burton Centre for reproductive Medicine BCRM has been providing fertility services since its inception in 1999 to NHS funded and self-funded patients alike. The first step to arranging treatment at the BCRM is to speak to your GP who will refer you to the local NHS service, from then on once an appointment is made with staff at the BCRM you will first be put through a number of tests to evaluate your fertility and general health. Once your initial examination is complete semen analysis for men and a hormone profile for women, an appointment with the member of the team will be arranged and your results discussed in depth. If there are any further tests or investigations necessary, these will be explained to you in full and arranged, or if treatment is a plausible route then your options will be discussed with you and a treatment plan concocted. The process is quite variable and depends on the individuals involved, but regardless of your condition you can expect a consistent level of excellent care at the BCRM.
Services offered at this clinic: NHS and private patients treated, sperm retrieval by TESA and PESA, ovulation cycle monitoring, ovulation induction, treatment of patients with HepA and HepB, sperm assessment, counselling service, translator services on request, storage of sperm and for patients with cancer, embryo and sperm storage, recruitment of egg, sperm, and embryo donors for the treatment of others, ICSI and IVF with donor sperm and eggs, donor insemination, IUI stimulated and unstimulated (partner), IVF, mild IVF, ICSI, unstimulated DI, blastocyst transfer, stimulated DI, ultrasound scanning, fallopian tube patency testing
---
FERTILITY INFORMATION
UK HEALTH CENTRES
SELECT A LOCATION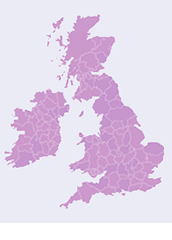 UK Health Centre