Centre for Reproductive Medicine and Fertility, Coventry
There are various types of fertility treatments and the contact telephone number and address for Centre for Reproductive Medicine and Fertility, Coventry, can be found below.
If you would like to find out if you are suitable for fertility treatment or information about a particular procedure or treatment, contact a local clinic.
Centre for Reproductive Medicine and Fertility, Coventry
Centre for Reproductive Medicine and Fertility, Coventry
University Hospitals Coventry & Warwickshire NHS Trust
Clifford Bridge Road
Coventry
UK
CV2 2DX
Tel: 024 76 968879
Clinic details: The centre's main areas of treatment are Coventry and Warwickshire, but its location near the country's second largest city, Birmingham, makes it an ideal location for treatments if you are from the Birmingham area or further afield. A number of different treatment procedures are made available from the centre, including donor services for storage and treatment purposes. The clinic keeps a number of donated samples for use in fertility treatments where a couple lack sexual material of sufficient quality for treatment. The induction of ovulation is provided at the centre for treatments where many eggs are needed like IVF and often insemination. Surgical interventions can solve fertility issues where damage is in, for instance, the fallopian tubes (a tubal structure linking the ovaries with the womb) or the endometrium (lining of the womb). Fallopian tube health can be assessed using a test called a tubal patency assessment which determines whether fallopian tubes are functioning as they should. Other laboratory techniques like IVF are provided at the centre with great success, as are ICSI (intra-cytoplasmic sperm injection) and IUI (intrauterine insemination) treatments which have proven to be extremely successful. In 2009 the centre performed 504 IVF treatment cycles, as well as 389 ICSI cycles and 433 IUI cycles, indicating the wealth of experience the staff have in providing these treatments. The centre can also boast an extremely high proportion of single births, 87.5% compared to the HFEA target 76%, a fact which is made all the more significant by the fact that multiple births are considered one of the most serious risks of fertility treatment.
Fertility treatment at this clinic: The Centre for Reproductive Medicine in Coventry is a specialist provider of fertility treatments, and offers some of the UK's highest success rates in the field of assisted reproduction. Upon your referral to the centre you can expect the complete and unwavering attention of a specialist team that brings together many different disciplines to form a focussed care service that addresses your needs. The centre's dedication to your care is evident in the high success rates reported through the HFEA's regulation. The HFEA is the country's independent authority on all things fertility, and is responsible for monitoring and licensing fertility clinics across the country. In doing so, patients like yourself can be confident in the quality the presence of an HFEA license implies, and the Centre for Reproductive Medicine in Coventry bears a recently renewed and reviewed HFEA license. Great care and treatment is so important to making fertility treatment a smooth and bearable experience for anyone struggling with conceiving. The service provided also extends beyond just getting you pregnant, with a counselling provision that ensures you are emotionally supported throughout your care and treatment. Mental health is not only important in the long run, but can help you get through the process with your desired goal, a live birth, motivating you through the ups and downs of what is an emotional process. Early consultations will help to determine the cause of infertility if possible, and from there a personal treatment plan will be developed to ensure that only the most patient friendly steps are taken.
Services offered at this clinic: Private and NHS patients treated, insemination (IUI and donor), in vitro fertilisation (IVF), intra-cytoplasmic sperm injection (ICSI), sperm, egg, and embryo donors recruited, donors recruited for treatment, counselling services, translator services, support groups, induction of ovulation, ovulation monitoring, sperm assessment, post-coital testing, tubal surgery, IVF for anyone with HIV, communicable viral illnesses, hepatitis B, and HIV treatment
---
FERTILITY INFORMATION
UK HEALTH CENTRES
SELECT A LOCATION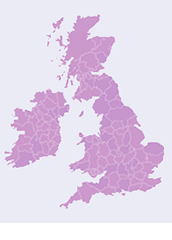 UK Health Centre