Chiltern Hospital Fertility Services Unit
There are various types of fertility treatments and the contact telephone number and address for Chiltern Hospital Fertility Services Unit, can be found below.
If you would like to find out if you are suitable for fertility treatment or information about a particular procedure or treatment, contact a local clinic.
Chiltern Hospital Fertility Services Unit
Chiltern Hospital Fertility Services Unit
BMI The Chiltern Hospital
London Hospital
London
UK
HP16 0EN
Tel: 01494892 276
Clinic details: The Chiltern Hospital operates out of Buckinghamshire to provide the excellence associated with the BMI name to a broad community who benefit hugely from the facility's experience in private healthcare and fertility. Diverse treatments are offered including some procedures that are not staple offerings at other fertility clinics, meaning that The Chiltern Hospital can offer you new opportunities which can be particularly useful where you have gone through fertility treatments before but with little success. Gamete intra-fallopian transfer (GIFT) is provided by the hospital, a treatment where eggs and sperm are mixed together and inserted into a structure in the female reproductive system called the fallopian tubes. These link your ovaries, which store and release eggs, and your uterus to one another, and the treatment can be extremely effective at achieving pregnancy in many cases. The extremely popular IVF (in vitro fertilisation) and ICSI (intra-cytoplasmic sperm injection) treatments are both offered at The Hospital to high standards, with an 81.1% proportion of single live births and success rates in line with national averages.
Fertility treatment at this clinic: BMI Healthcare has carved itself a niche in the world of private healthcare by pursuing its trademark high standards of professionalism and individual attention. BMI has become synonymous with quality and great value when it comes to anyone of a number of different medical and surgical services, and performs more complex surgeries than any of its competitors in the field. Few healthcare providers, private or otherwise, can claim a Lakeside Suite as home to their fertility treatments as BMI The Chiltern Hospital does. The Lakeside Suite is licensed by the Human Fertilisation and Embryology Authority HFEA and tends to the needs of its community where matters of infertility are concerned. The suite offers high successes in the field of IVF and other assisted reproduction techniques, all within the privacy and comfort of a private hospital offering its patients private ensuite bedrooms made to be comfortable and offer an excellent environment for treatment and recuperation. BMI The Chiltern Hospital offers you the peace of mind and security that comes from a specialist service led by leading consultants in the field who are backed up by the best technologies and support staff available. A resident medical officer and support nursing staff are on site around the clock to provide any kind of support you might need.
Services offered at this clinic: Parental induction of ovulation, percutaneous Epididymal sperm aspiration, intra-cytoplasmic sperm injection (ICSI), egg donation, embryo cryopreservation, gamete intra-fallopian transfer, embryo storage, donor insemination, assisted hatching, testicular Epididymal sperm extraction, ovulation induction (with clomifene citrate), egg donation, in vitro fertilisation (IVF), cycle monitoring, zygote intra-fallopian transfer (ZIFT), private and NHS patients treated, recruitment of egg donors for treatment purposes, counselling services from a dedicated counsellor, sperm assessment, tubal surgery, sperm retrieval (MESA, TESA)
---
FERTILITY INFORMATION
UK HEALTH CENTRES
SELECT A LOCATION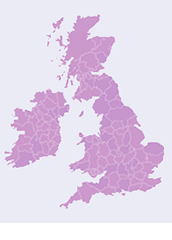 UK Health Centre