Cleveland Gynaecology and Fertility Centre
There are various types of fertility treatments and the contact telephone number and address for Cleveland Gynaecology and Fertility Centre, can be found below.
If you would like to find out if you are suitable for fertility treatment or information about a particular procedure or treatment, contact a local clinic.
Cleveland Gynaecology and Fertility Centre
Cleveland Gynaecology and Fertility Centre
Spring House
Great Broughton
Middlesbrough
UK
TS9 7HX
Tel: 01642 778 239
Clinic details: Insemination is an invaluable method that provides many couples with a means by which to get pregnant despite sub- and infertility issues. Same sex couples and single parents can both benefit hugely from insemination, which can make use of donated sperm to achieve pregnancy. The most effective method of fertilisation by artificial insemination is through the use of a technique called intrauterine insemination, which involves preparing a sperm sample and inserting it into the female cervix where it has better chances of making its way to the egg and fertilising it. Sometimes this treatment will be performed after fertility drugs are first used to stimulate the production and release of eggs to improve the chances of a successful fertilisation which will, hopefully, be carried through to full term over the months to follow.
Fertility treatment at this clinic: The Cleveland Gynaecology and Fertility Centre provides treatments for infertility in Great Broughton, Middlesbrough, providing couples of different ages with solutions to their difficulties in conceiving through insemination options. Insemination is a remarkably simple but effective simple that can achieve pregnancy where natural sexual intercourse might not have done in a while. It is estimated that as many as one in six couples in the UK will suffer from fertility problems at some point in their lives. As this is the case the need for providers of truly excellent care in a cost effective, reassuring, and efficient manner is prominent, and it is this need which the Cleveland Gynaecology and Fertility Centre aims to meet by providing its fertility treatments and other services in Buckinghamshire.
Services offered at this clinic: Insemination, donor insemination
---
FERTILITY INFORMATION
UK HEALTH CENTRES
SELECT A LOCATION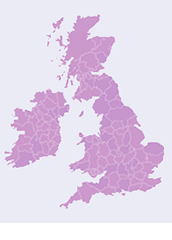 UK Health Centre