Craigavon Area Hospital
There are various types of fertility treatments and the contact telephone number and address for Craigavon Area Hospital, can be found below.
If you would like to find out if you are suitable for fertility treatment or information about a particular procedure or treatment, contact a local clinic.
Craigavon Area Hospital
Craigavon Area Hospital
68 Lurgan Road
Portadown
Craigavon
UK
BT63 5QQ
Tel: 0283 861 2003
Clinic details: Northern Ireland's County Armagh is a beautifully quintessential Irish rural area, filled with the emerald greens of luscious woodland and fields, as well as a mixture of classically picturesque villages and industriously modern towns. The Craigavon Area Hospital is positioned within County Armagh's Craigavon, where the nearby boroughs of Armagh, Dungannon-South Tyrone, Banbridge, and Lisnisky are all within easy access to cater for the medical needs of the local population. One of the services provided by the hospital is its invaluable IVF provision, a revolutionary treatment that has forever changed the world since its inception so many years ago. IVF, or in vitro fertilisation, is a procedure by which an infertile couple's biological impediments are bypassed by using a specifically designed laboratory setting to introduce male sperm and female eggs for fertilisation. In such a controlled environment, fertilisation tends to be more likely, and once successful the fertilised egg goes on to form the very earliest phase of a new-born, the embryo. Once an embryo has grown enough to survive the transition, it is implanted into the mother's womb where, if successful, it will grow and carry on to full term a mere 9 months later.
Fertility treatment at this clinic: Craigavon Area Hospital services the communities of County Armagh in Northern Ireland through a large facility to cater to the 241,000 odd people in the surrounding areas. The hospital dates back to 1972, and was built in response to growing demand for modern healthcare from the ever growing population of the county. Craigavon Area Hospital provides a number of different medical services from its different departments, including an IVF fertility service that can change the lives of couples struggling to conceive. The IVF offering at Craigavon Area Hospital comes under the jurisdiction of a number of different specialists working together in concert to achieve your goal of pregnancy in as safe and efficient a manner as possible.
Services offered at this clinic: IVF (none others listed)
---
FERTILITY INFORMATION
UK HEALTH CENTRES
SELECT A LOCATION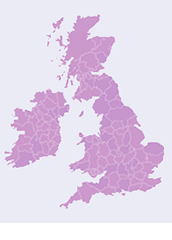 UK Health Centre