Glasgow Nuffield Hospital
There are various types of fertility treatments and the contact telephone number and address for Glasgow Nuffield Hospital, can be found below.
If you would like to find out if you are suitable for fertility treatment or information about a particular procedure or treatment, contact a local clinic.
Glasgow Nuffield Hospital
Glasgow Nuffield Hospital
Assisted Conception Services
Unit 29
Beaconsfield Road
Glasgow
Scotland
G12 0PJ
Tel: 0141 576 2743
Clinic details: Glasgow is a city whose industrial history rivals most other major cities in the UK and the world. It continues to be an important economic part of Scotland, and is home to many quality service an care providers like Glasgow Nuffield Health Hospital and its reproductive medicine departments. Fertility MOTs are provided to assess your reproductive health, whether you are just about to start trying to conceive or have been attempting to get pregnant for a while but with little success. IVF, ICSI, and artificial insemination are provided to patients who can most benefit from these technologies.
Fertility treatment at this clinic: Nuffield Hospitals are known throughout the UK for their delivery of state of the art private healthcare in hospitals that are maintained to the very best standards. Glasgow Nuffield Hospital maintains the standards which have earned Nuffield Health their reputation, and in doing so ensures that people of communities in and around Glasgow have access to the healthcare they deserve. One of the Nuffield Health Glasgow Hospital's premiere offerings is reproductive medicine, a field that has developed in leaps and bounds over the last 3-4 decades and now provides more couples than ever the opportunity to have a baby where in the past they would have struggled to do so. The reproductive medicine service at Nuffield Health was actually the first within the private healthcare domain in Scotland, and has since then become an established provider of fertility care. The unit has been providing these treatments for 24 years, and has in that time accrued the experience of treating thousands of patients in need of a number of different assisted reproductive technologies. At the hospital you can expect individual rooms furnished with the comforts of ensuite and entertainment facilities, with the care and attention of a consultant led team of specialists there for you around the clock.
Services offered at this clinic: Private patients treated, intra-cytoplasmic sperm injection (ICSI), donor insemination (stimulated and unstimulated), blastocyst transfer, intrauterine insemination (stimulated and unstimulated), sperm and egg donors recruited, ICSI and IVF with donor eggs and sperms, storage (embryos, sperm, and testicular tissue), sperm assessment, translator services available, patient support groups and open evening, counselling services, surgical sperm aspiration, tubal surgery, induction of ovulation
---
FERTILITY INFORMATION
UK HEALTH CENTRES
SELECT A LOCATION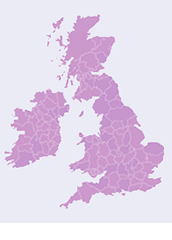 UK Health Centre