Good Hope Hospital NHS Trust
There are various types of fertility treatments and the contact telephone number and address for Good Hope Hospital NHS Trust, can be found below.
If you would like to find out if you are suitable for fertility treatment or information about a particular procedure or treatment, contact a local clinic.
Good Hope Hospital NHS Trust
Good Hope Hospital NHS Trust
Fertility Centre
Rectory Road
Sutton Coldfield
West Midlands
UK
B75 7RR
Tel: 0121 424 9758
Clinic details: One of the towns north of central Birmingham, Sutton Coldfield is known for a connection to the Royal Family which has earned it the title of Royal Town. It is home to Good Hope Hospital, a pivotal part of the Heart of England NHS Foundation Trust whose role includes the delivery of artificial insemination treatments to the residents of Sutton Coldfield, northern Birmingham, and nearby east Staffordshire amongst my other nearby towns. The method used is intrauterine insemination, a technique known for its simplicity and effectiveness in treating infertility where the causes of the condition are either unknown or rooted in such conditions as erectile dysfunction and premature ejaculation.
Fertility treatment at this clinic: Good Hope Hospital is part of the Heart of England NHS Foundation Trust which includes a number of other hospitals like the Birmingham Heartlands Hospital, Solihull Hospital, and the Birmingham Chest Clinic. As a Trust, the Heart of England NHS Foundation Trust has consistently been amongst the highest performing of its kind in the UK, leading in such areas as addressing hospital infections like MRSA and the specialist treatment of conditions like HIV, AIDS, and cystic fibrosis. The organisation originated in Little Bromwich Hospital, and now includes a number of facilities including Good Hope Hospital in Sutton Coldfield. From this location Good Hope Hospital serves the northern parts of Birmingham as well as nearby Lichfield and Tamworth, a total population of about 450,000 people from different communities in the region. The hospital's services include an Accident and Emergency as well as a fertility centre that has held an HFEA license from 2007.Services offered at this centre: NHS patients treated, post-coital test, intrauterine insemination (unstimulated and stimulated), sperm assessment, ovulation cycle monitoring, counselling an support services, translator services and open evenings
---
FERTILITY INFORMATION
UK HEALTH CENTRES
SELECT A LOCATION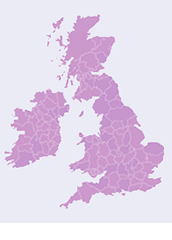 UK Health Centre