Hewitt Centre for Reproductive Medicine
There are various types of fertility treatments and the contact telephone number and address for Hewitt Centre for Reproductive Medicine, can be found below.
If you would like to find out if you are suitable for fertility treatment or information about a particular procedure or treatment, contact a local clinic.
Hewitt Centre for Reproductive Medicine
Hewitt Centre for Reproductive Medicine
Liverpool Women's Hospital
Crown Street
Liverpool
UK
L8 7SS
Tel: 0151 702 4124
Clinic details: The Hewitt Fertility Centre is based in Liverpool, a city known worldwide for its football team amongst many other achievements. Located in the east of England, Liverpool has been a recognised city since 1880 and now has a population of 435,500 in the city's central area. Liverpool has been a major commercial and industrial port for many years, which has been responsible for fuelling the city's remarkable growth. Hewitt Fertility's Liverpool location makes it extremely accessible by any means, with regular train and bus routes passing through the city and into its surrounding areas. Hewitt Fertility offers a long list of different fertility treatments to cater to the diverse needs of its patients. Some patients will most benefit from the artificial insemination treatments on offer, which include intrauterine insemination (IUI) and donor insemination (DI). IUI places a sperm sample directly into the uterus, while DI is used where a male partner is either unavailable or where a male partner's sperm are not of sufficient quality to fertilise an egg. In some cases DI is chosen where a male partner is carrying a heritable disease to remove the chances of his child bearing it as well. Other couples can make use of an extremely successful in vitro fertilisation (IVF) service, which takes eggs from the female and sperm from the male and introduces them to one another in a lab setting, free from physiological constraints. IVF is an amazing procedure in that it has helped so very many couples with infertility to conceive and have their own children, and few treatments in any field can claim such a life changing effect. IVF is offered at the Hewitt Centre alongside its sister treatment ICSI (intra-cytoplasmic sperm injection), a treatment similar to IVF that instead takes a single sperm cell and injects it right into the egg cell to provide a much higher chance of fertilisation. ICSI is very effective because of its remarkable ability to bypass many causes of male infertility by directly introducing gametes (sex cells) from either partner. Normally successful sperm action depends on good sperm quality, motility, and counts, but through ICSI these characteristics aren't as important, meaning that sperm suffering from any defects in these areas can still fertilise an egg.
Fertility treatment at this clinic: The Hewitt Centre for Reproductive Medicine has the distinct privilege of being the largest centre of its kind in Europe, meaning that it is the largest NHS provider of fertility treatments and assisted reproduction technologies in the UK. The centre aims to alleviate infertility and the stress and emotional trauma involved with it through a genuine care provision that aims to help you as best as it can. The Hewitt Centre works in close partnership with North West Fertility, a provider of private fertility care, to ensure that whether you are looking for NHS funded treatment or private care you have the option of either. Typically you will come to the attention of the Hewitt Centre through GP referrals and after investigations into the cause of your infertility have been performed. These tests are important in establishing both your condition and how best to help you, and will often include blood tests to check hormone levels, imaging of your reproductive tract, and a semen analysis to investigate the quality of sperm. The Hewitt Centre itself bears the design of a modern health club rather than a medical facility, but that image is just to encourage relaxation and comfort and there should be no doubt as to the quality of the advanced medical equipment, techniques, and staff available throughout the centre. As a service completely aimed at helping its patients, the centre has in fact been designed in part by many of the couples who have received its treatment and care. You can expect a complete suite and range of fertility treatments from the Hewitt Centre, supplemented by a support service including a dedicated counsellor and his/her complete attention should you need to talk through what you are going through.
Services offered at this clinic: Donor insemination, sperm washing, in vitro fertilisation (IVF), egg donation, sperm washing, intra-cytoplasmic sperm injection (ICSI), intrauterine insemination (IUI), zonal hatching, freezing and storage of embryos and sperm, egg sharing, counselling services, surgical sperm recovery
---
FERTILITY INFORMATION
UK HEALTH CENTRES
SELECT A LOCATION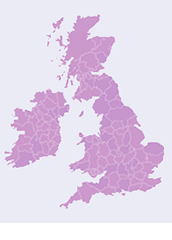 UK Health Centre