Manchester Fertility Services LTD
There are various types of fertility treatments and the contact telephone number and address for Manchester Fertility Services LTD, can be found below.
If you would like to find out if you are suitable for fertility treatment or information about a particular procedure or treatment, contact a local clinic.
Manchester Fertility Services LTD
Manchester Fertility Services LTD
Bridgewater Hospital
120 Princess Road
Manchester
UK
M15 5AT
Tel: 0161 227 0010
Clinic details: Manchester can probably claim a reputation unlike any other city in England thanks to the phenomenal global support of the Manchester United Football team. That being said, there's a lot more to Manchester than Old Trafford, namely a bustling cultural and commercial sector that is one of the most productive in England. Manchester Fertility Services faces a number of competitors in its field as there are a number of private healthcare providers within Manchester, but despite this has retained its position as one of the leading IVF providers in the area thanks to its commitment to getting you pregnant in a quick and healthy manner. A range of treatment options are available including the surgical extraction of sperm from men who have no sperm in their semen, allowing for artificial insemination options. Intrauterine insemination (IUI) and donor sperm insemination are the two techniques of artificial insemination on offer, the latter is in fact IUI but with donated sperm. IUI is a straightforward but effective method involving sperm being placed within the uterus for fertilisation, providing an opportunity for conception and pregnancy in a number of different cases and scenarios. Ovulation can be induced at the centre for IUI treatments as well as IVF and ICSI (in vitro fertilisation and intra-cytoplasmic sperm injection respectively). An egg sharing scheme is available to encourage egg donation where excess eggs are produced from induced ovulation, and this means that should you choose to share your eggs you will receive an IVF cycle completely free of charge while also providing another couple with a chance to have a child of their own. Egg freeing and sperm freezing are made available to preserve samples for later treatment cycles, which can save you the hassle of having to go through another round of fertility drug treatment and having your eggs collected all over again. Fertility MOTs and mini MOTs are provided for couples who want to look into their fertility, whether to set their mind at ease prior to trying to get pregnant, or those who have been trying to get pregnant for a while and haven't had much success and would like a quick and efficient expert opinion. All in all the services provided at the MFS are comprehensive in every sense, and designed to get you pregnant as healthily and quickly as possible.
Fertility treatment at this clinic: Manchester Fertility Services provide a plethora of different treatments as a leading provider of IVF and other assisted reproduction technologies in Manchester. Manchester Fertility Services have been providing their services for more than 25 years and since beginning to offer treatments in 1986 have managed to achieve over 3,500 live births. This kind of experience is hard to find in any field, and where infertility is concerned that experience translates directly into better success rates and results. Over the years the service has recognised the many needs of patients walking in with sub- or infertility, and the emotional side of infertility has proven to be a significant element that Manchester Fertility Services has catered to by providing a stress-free environment in which to receive everything from consultations to diagnostic tests and to treatment. The staff available have been working together to great effect for many years, and bring specialist expertise from their respective areas to bear on your individual treatment. The clinic can be found right in the heart of Manchester by the city centre and aims to tend to the needs of people from areas around Manchester, Yorkshire, and the Isle of Man. In terms of success rates the MFS is one of the most successful clinics in Manchester, providing its services to people of all shapes and sizes with respect, discretion, and dedicated, as indicated by a recent survey by a local primary care trust. The efforts of the team and MFS as a whole are all focussed and geared towards providing you with the best chance of having a baby, and in doing so a healthy and fulfilling experience in many respects.
Services offered at this clinic: Donor insemination (unstimulated and stimulated), in vitro fertilisation (IVF), blastocyst transfer, counselling services, egg sharing, intra-cytoplasmic sperm injection (ICSI), private and NHS patients treated, storage (egg, sperm, embryos), open evenings, translator services, induction of ovulation, sperm assessment, surgical sperm retrieval (PESA, MESA, TESA), post-coital test, full surrogacy
---
FERTILITY INFORMATION
UK HEALTH CENTRES
SELECT A LOCATION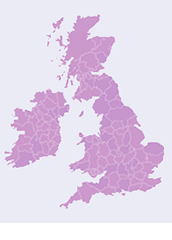 UK Health Centre