Princess of Wales Hospital
There are various types of fertility treatments and the contact telephone number and address for Princess of Wales Hospital, can be found below.
If you would like to find out if you are suitable for fertility treatment or information about a particular procedure or treatment, contact a local clinic.
Princess of Wales Hospital
Princess of Wales Hospital
(ABM University Health Board)
Coity Road
Bridgend
UK
CF31 1RQ
Tel: 01656 752 465Bridgend is also known by its Welsh name Pen-y-bont ar Ogwr, and can be found a short 22 miles away from Cardiff in the County Borough of Bridgend. The town has grown quickly in recent years, and was previously a home to many traditional industrial activities like coal mining and the like which fuelled its growth in previous years. More recently Bridgend's economy has gone in a different direction, expanding into the fields of IT and biotechnology with considerable success, as well as many other fields which continue to fuel the town's growth and prosperity. The Princess of Wales Hospital provides a number of different treatments to the local community, of which fertility treatments is an important provision. The hospital offers intrauterine insemination (IUI) treatments to couples who can benefit from the treatment. Intrauterine insemination is normally preceded by a round of drug treatments which encourage female ovulation, preparing the body for the treatment and a successful conception. The treatment itself is quite straightforward, and will involve first taking a sperm sample from a male partner and inserting it into the uterus. From this position male sperm have a good chance of making it to and fertilising an egg, which would give a couple an opportunity to get pregnant if they have been struggling to conceive for some time. IUI is an extremely effective method in many instances, and can be a life changing option for many.
Fertility treatment at this clinic: The Princess of Wales Hospital has been providing treatments and services under the wing of the Bro Morgannwg NHS Trust since opening its doors in 1985. The hospital can provide a range of different departments and treatment options, including emergency medical and surgical care, gynaecology, and fertility treatments. The hospital can be found on the edge of Bridgend, located within the County Borough of the same name, but services aren't limited to that one community and in fact extend to other counties to the east and west. The local community numbers around 160,000, and are tended to within the hospital's extremely modern and well maintained facilities. The Princess of Wales Hospital does in fact enjoy a distinct reputation as one of the latest and most modern medical facilities in Wales, providing a number of different surgical and medical treatment options to people of all shapes and sizes. The hospital also possesses a private healthcare unit called the Bridgend Clinic, which is housed within the main site and has its own bed. The clinic is run by consultants in and out of the Trust who deliver private care in a peaceful and serene environment with easy access to a large and modern acute hospital's facilities. The Princess of Wales Hospital also has its own postgraduate facilities and staff residence, as well as an extremely specialised Surgical Methods Testing Laboratory. The centre offers intrauterine insemination IUI fertility treatments under an HFEA Human Fertilisation and Embryology Authority License, which means that all fertility treatments delivered by the hospital are regularly monitored and observed to ensure that they remain in line with high national standards.
Services offered at this clinic: NHS patients treated, intrauterine insemination (IUI)
---
FERTILITY INFORMATION
UK HEALTH CENTRES
SELECT A LOCATION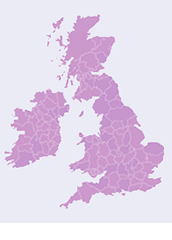 UK Health Centre