Queen Mary's Hospital
There are various types of fertility treatments and the contact telephone number and address for Queen Mary's Hospital, can be found below.
If you would like to find out if you are suitable for fertility treatment or information about a particular procedure or treatment, contact a local clinic.
Queen Mary's Hospital
Queen Mary's Hospital
Fertility & Assisted Conception Unit
Women's Wing Queen Mary's Hospital
Frognal Road
Sidcup
Kent
UK
DA14 6LT
Tel: 0208 308 3043
Clinic details: The Queen Mary's Hospital in Sidcup is unique in that the town lies between Kent County and the London Boroughs of Bromley and Greenwich, a mere 11 miles from the central Charing Cross station, making the hospital uniquely accessible to Kent and London's Southeast. Sidcup retains a distinctly suburban aesthetic and is home to a wealth of detached and semi-detached houses sharing pars. The town's position meant that the Queen Mary's Hospital was able to service a very large and diverse population, hence the operation of a busy A&E unit in previous years. Since that emergency service was shut down, the hospital has focussed on the delivery of excellent care in many other departments, including fertility treatments, of which artificial insemination is a mainstay. Artificial insemination is provided to both NHS and private patients who meet criteria of age 9up to 44) and weight (maximum BMI of 35). The technique of insemination used is the globally successful and immensely popular IUI (intrauterine insemination), which has achieved great results at a fraction of the cost and hassle of other fertility treatments like IVF. The hospital also provides ovulation drug treatments, either as a treatment where it can benefit patients or as a method of encouraging and improving the chances of a successful IUI cycle. The hospital performs tubal surgery where necessary in the event of female factor infertility stemming from blockage or damage to the fallopian tubes, a part of the reproductive tract which links the ovaries to the womb.
Fertility treatment at this clinic: Queen Mary's Hospital in Kent's Sidcup was formerly a provider of accident and emergency care, but since the closing of its A&E department last year, the hospital has focussed on the provision of maternity services, fertility treatments, minor injuries, and other specialties. The hospital's facilities include a complete diagnostic suite and counselling services, both of which are great support services for fertility treatments and many others at the site. The hospital has held license from the government's fertility regulatory body the Human Fertilisation and Embryology Authority HFEA since1992, and regular inspections have ensured the maintenance of a nationally recognised standard of care. This license was recently renewed in March of 2010, and the hospital continues to provide quality fertility care on top of its other services.
Services offered at this clinic: NHS and Private patients both treated, insemination treatments, counselling, translator services, support group, tubal surgery, ovulation monitoring and induction
---
FERTILITY INFORMATION
UK HEALTH CENTRES
SELECT A LOCATION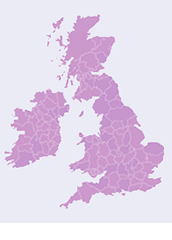 UK Health Centre