Salisbury Fertility Centre
There are various types of fertility treatments and the contact telephone number and address for Salisbury Fertility Centre, can be found below.
If you would like to find out if you are suitable for fertility treatment or information about a particular procedure or treatment, contact a local clinic.
Salisbury Fertility Centre
Salisbury Fertility Centre
Salisbury District Hospital
Odstock Road
Salisbury
Wiltshire
UK
SP2 8BJ
Tel: 01722 417 224
Clinic details: The Salisbury Fertility Centre can be found in the remarkable city of Salisbury, a cathedral city with the famous Salisbury Cathedral acting as the city's main historical and tourist attraction. It is second to Swindon in size in the county of Wiltshire, and can be found near Salisbury plain. Much of Salisbury's history revolves around its position in terms of the national rail network, and its celebrated Salisbury Cathedral, a structure as unique as it is majestic. Salisbury District Hospital is the site from which the Salisbury Fertility Clinic operates, and the site is known for its assisted conception options for both private (self-funded) and NHS patients. The centre bears a license from The Human Fertilisation and Embryology Authority (HFEA), meaning that its services and treatments are under the regular and stringent monitoring of an independent organisation aiming to maintain high national standards of infertility care. Treatments offered are many and varied, and aim to meet the needs of individuals. The human body, and fertility in particular, is a remarkably complex system and no two people or cases of infertility are ever exactly the same. As such an individualised approach is the best way to really meet the needs of different patients. Upon referral a specialist and expert consultant will be responsible for going through your medical history and arranging any tests you might need, after these stages the appropriate treatments can be devised based on what will suit you best. Patients who are either NHS or self 'funded are treated provided they are under the age of 44, and the treatments available include the latest assisted reproductive technologies available today, such as intrauterine insemination (IUI) with either partner or donor sperm, in vitro fertilisation (IVF), intra-cytoplasmic sperm injection (ICSI), and surgical sperm retrieval. Donor eggs and sperm are provided for patients who can make use of those facilities, which can be a particularly helpful option where one or both partners suffer from a genetic illness they don't want to pass on to their future child. There is a facility for full surrogacy, an option for many that can be invaluable and is in relatively short supply. Having a practiced Fertility Clinic guide you through the surrogacy process is important as you will be provided with the emotional and physical support you need, and the process with all its pros and cons will be explained in full detail so that you and the surrogate fully understand what can be a complex arrangement. Surgical sperm extraction is provided, as well as drug induction of ovulation and the monitoring of the ovulation cycle.
Fertility treatment at this clinic: There are many providers of fertility care across the country, and as such maintaining a high level of performance is extremely important to staying in the forefront of a rapidly evolving field. Salisbury Hospital's Fertility Centre is a centre committed to pursuing the highest standards of service and care to deliver a service that is completely centred around the patient and maintaining a position as a leading provider of fertility care in the region. The Salisbury Fertility Centre was founded in 1996 and is within the Salisbury District Hospital, part of a trust with a reputation for innovation and the provision of a personal type of care that can go a long way towards helping a patient recover. As part of an NHS Foundation Trust, the standards to which the Salisbury Hospital performs have achieved sufficient recognition for its elevation to Foundation Trust Status. Referrals are received from local general practitioners and specialists from other hospitals, attracting many patients from a broad range of communities that seek the quality and security that treatment from an NHS foundation trust can offer. Of the many excellent facilities on offer at the hospital, Salisbury District Hospital has earned a particular reputation because of outstanding hospital cleanliness, which translates into one of the lowest rates of hospital borne MRSA in the UK. The Trust believes in pursuing an all-around excellent patient care, part of which is creating a comfortable environment in which to receive care, including the offer of delicious and extremely nutritious food that breaks the tradition of inedible hospital food. A different range of treatments are provided by the hospital, encompassing a number of different specialties to meet the needs of the local communities. These include such varied fields as oncology and fertility amongst many others. Salisbury Fertility Centre is the Trust's provider of infertility treatments, which is a vital service in many respects as an estimated 1 in 6 couples in the UK will suffer from fertility troubles at some point. As a Trust with a reputation and history of financial security fertility treatment cycles are offered with financial backing that means that there are less stringent limitations on the number of treatment cycles couples can receive. The number of cycles you can receive as an NHS funded patient tends to depend on the funding available to the local PCT primary care trust, which in Salisbury District Hospital's case is financially able to base its decisions on the matter on patient welfare rather than budget limitations and constraints like many other trusts do.
Services offered at this clinic: Surgical sperm retrieval (PESA, TESA, MESA), full surrogacy, sperm assessment and washing, induction of ovulation, monitoring of ovulation, intra-cytoplasmic sperm injection (ICSI), counselling and patient services, in vitro fertilisation (IVF), egg and sperm donors recruited, donor insemination.
---
FERTILITY INFORMATION
UK HEALTH CENTRES
SELECT A LOCATION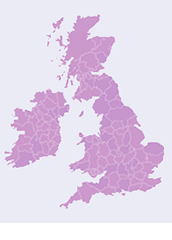 UK Health Centre