St Jude's Women's Hospital
There are various types of fertility treatments and the contact telephone number and address for St Jude's Women's Hospital, can be found below.
If you would like to find out if you are suitable for fertility treatment or information about a particular procedure or treatment, contact a local clinic.
St Jude's Women's Hospital
St Jude's Women's Hospital
263 Penn Road
Penn
Wolverhampton
W. Mildands
UK
WV4 5SF
Tel: 01902 620831
Clinic details: The West Midlands is home to Wolverhampton, a busy city of many industries and a population of about a quarter of a million, making it the 13th most well populated city in the UK. The city was previously a part of Staffordshire before joining the West Midlands, and can trace its origins to about 985 AD. Today Wolverhampton is home to many businesses and industries, and its convenient location and large population make it an ideal location for St Jude's Hospitals and Clinics' fertility treatments. The hospital is completely kitted out to provide the best in care to people from the diverse cultural backgrounds that make up Wolverhampton's population of a quarter of a million. Assisted reproductive technologies like IVF (in vitro fertilisation) and ICSI (intra-cytoplasmic sperm injection) are provided alongside artificial insemination. The hospital runs an egg sharing and donation scheme to meet the needs of a whole host of women, some of whom may be struggling to conceive even with assistive technologies. Donor sperm can be used for artificial insemination at St Jude's, meaning that men who are unable to generate viable sperm or who don't want to pass on heritable diseases to their children.
Fertility treatment at this clinic: St Jude's Hospital and Clinics are leading care providers in the area of antenatal care, ultrasound, fertility, and miscarriage treatment. St Jude's operates hospitals in both Wolverhampton and Staffordshire's Newcastle-Under-Lyme, providing a personable and friendly environment in which to seek treatment for a condition which can be a major cause of stress and personal discomfort for many. While the Newcastle Hospital is a specialist provider of surgical options, the Wolverhampton St Jude's Women's Hospital is a provider of fertility care as well as all around women's health services. Mr Adeghe is the medical director if the institute, and is a practitioner with more than three decades of experience in the field of obstetrics, infertility, and gynaecology. It was during his ten years as an NHS consultant that Mr Adeghe arranged what came to be an extremely successful in vitro fertilisation IVF unit at Wolverhampton's New Cross Hospital. A number of other professionals deliver treatments under Mr Adeghe's watchful leadership, with embryologists, a dedicated counsellor, ,and specialist doctors and nurses all working in concert to deliver what has become an invaluable service in the Midlands. The Wolverhampton Hospital provides a comprehensive range of different treatments which enable couples who have been struggling for a long time to reach their goals of conception. Experienced staff delivering your care in a well-equipped and friendly environment, all in a central Midlands location within Wolverhampton that ensures that not only will all your healthcare needs be met, but you will be attended by the same team throughout your care who will become intimately aware of your personal situation.
Services offered at this clinic: Donor insemination, in vitro fertilisation (IVF), private patients treated, intra-cytoplasmic sperm injection (ICSI), counselling services, surgical sperm aspiration, and sperm washing
---
FERTILITY INFORMATION
UK HEALTH CENTRES
SELECT A LOCATION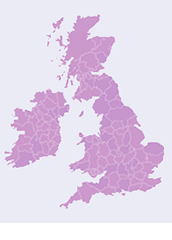 UK Health Centre